Online Poker has grown exponentially since the Online Poker Boom in 2003. Most people have tried it, and many continue to play regularly, both for fun and professionally.
In this guide, we will take you through the best online poker site, the history of online poker, the benefits of playing at home, the rules of the game, and a couple of key strategies to use if you are a beginner or intermediate player looking to sharpen your game.
There are several good online poker rooms to choose between but some are better than others. It's important to find online poker sites that offer a generous welcome offer, lots of liquidity with plenty of tables to choose between, a wide variety of sit n' go, and larger poker tournaments. Below we have listed our Top 3 recommended online poker rooms for you to enjoy.
Big Welcome Bonus + Free Spins
Experienced and Trusted Brand
Great Design and User-Friendly Interface
Get $600 bonus
The first step is choosing which site to play on. Each state with legality will offer multiple options and perhaps the best way to choose is by taking advantage of the best bonus offered. Each provider will offer an initial deposit bonus that often will match the first deposit figure and be slowly released in increments into the player's account as the funds are wagered.
With this offer generally only being available on the first deposit, it is imperative to shop around to see which site will be offering the greatest reward simply for beginning play. It is also prudent, when possible, to deposit the maximum amount for a bonus match when beginning play.
These offers are generally not available or have far less value for subsequent deposits after the initial one, so taking advantage of the full amount available on the deposit match would bring the most value.
Some sites will require a software download on computers or an app download on phones and/or tablets. This is just a slight delay and improves the overall experience for optimal and quickest gameplay.
Getting money into your account
You will have multiple options for depositing funds. Those include:
Online poker deposit methods
Visa
PayPal
PayNearME
Mastercard
Skrill
Cash at Cage
Electronic Check
Neteller
How To Play No-Limit Texas Hold em
All poker, including Texas Hold Em, is played with a 52-card deck, containing four suits ranked ace to two. Texas Hold Em tables will have anywhere between two and ten players and each hand will begin with each player receiving two cards face down. These are referred to as starting hand or hole cards.
Blinds
While some poker games are played with antes, Texas Hold Em is played with blinds. While antes force a blind wager that is dead money from each player regardless of their position on the hand, blinds are live-action and based on position in the hand.
The two players to the left of the dealer post the small blind and big blind, respectively. The small blind is one-half of the minimum bet allowed and the big blind is the exact amount of the minimum bet allowed.
Pre-Flop
After the blinds are posted and the starting hands are dealt, the action starts with the player immediately to the left of the big blind. As with each player to follow, that player will have one of three options. They can call the amount of the big blind, they can fold the hand without cost or they can raise the big blind to any increment that is at least twice the amount of the big blind. If there is no raise when the action gets to the big blind, the big blind will then have the option to raise the hand, or simply check and go to a flop.
The Flop
The flop consists of three face-up community cards that are used in conjunction with the player's hole cards to make the best possible poker hand. After the flop, the action to check or bet begins with the first player still possessing a hand to the left of the dealer button. This is repeated by each player in a clockwise motion until all bets are called by remaining players, it has checked around (meaning each player involved in the hand has opted to check instead of the bet) or one player has an uncalled bet and has won the pot.
The Turn
If a flop has called bets or a flop checks around, the next card up is referred to as the turn card. It is face up and included in the group of community cards from the flop. Exactly the same as the flop, the action begins with the first player to the left of the dealer, and the actions from the flop are repeated.
The River
After the turn comes the final face-up community card, referred to as the river card. The betting occurs the same way as the on the flop and turn, but there is a difference upon completion of a called bet on the river. At that point in time, there is a showdown, meaning the remaining players expose their hole cards and the pot is awarded to the player with the best five-card hand. Players have seven cards (two hole cards plus five community cards) but poker hands are determined by the best five-card hand.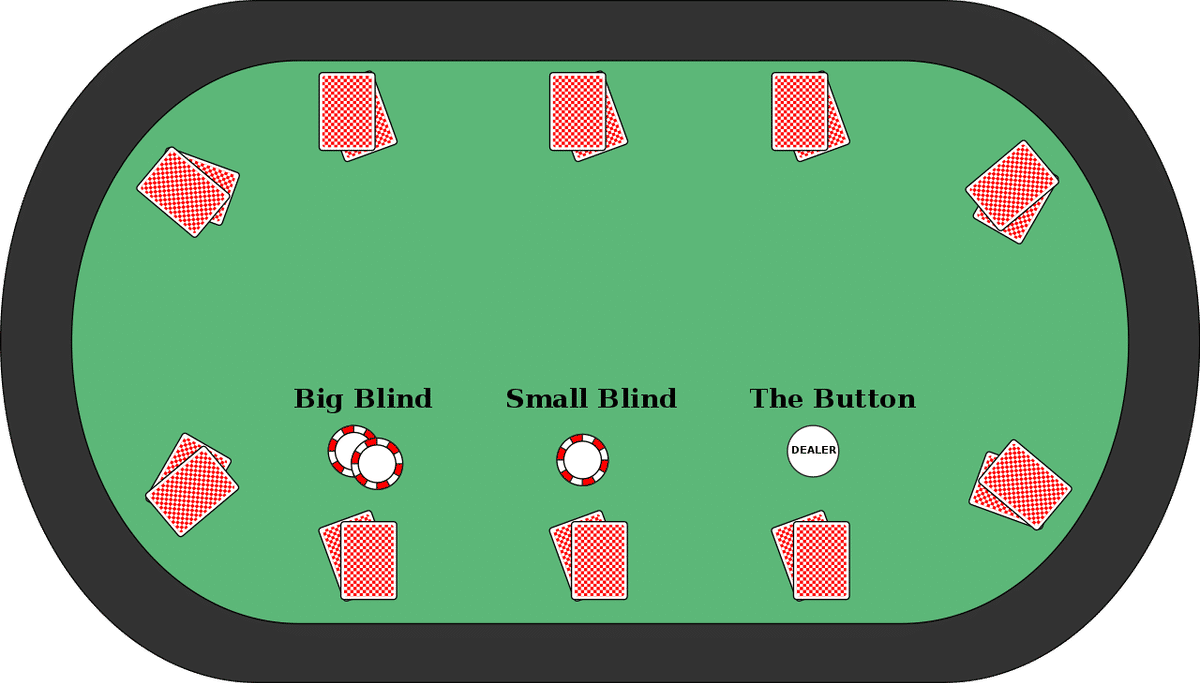 Blinds
Winning Hands in Poker
Winning hands are determined by the rank of order in poker. The rank of order is as follows:
Straight flush (an ace-high straight flush is referred to as a royal flush) – this is a hand in which a player possesses five cards in succession (a straight), that are all of the same suit (a flush). An example of a straight flush would be a five-card hand of jack of hearts, ten of hearts, nine of hearts, eight of hearts, and seven of hearts.
Four of a kind – This is simply possessing all four cards of the same rank such as four queens or four threes.
Full house – This is possessing three cards of the same rank in addition to two cards of the same rank. Examples include three aces and two sevens and three fours and two kings.
Flush – This is possessing five cards of the same suit. The suits on a deck of cards are spades, clubs hearts, and diamonds. The rank of the cards is only pertinent if two players have a flush. An example of a flush is the king of clubs, jack of clubs, eight of clubs, seven of clubs, and two of clubs.
Straight – This is possessing five cards of successive rank, regardless of suit. An example of a straight is the queen of spades, jack of diamonds, ten of hearts, nine of clubs, eight of spades. Note that an Ace can be high or low to make a straight and would be the lowest card in a five-high straight.
Three of a kind – This is possessing three cards of the same rank with no additional pairs. When hole cards are a pair and the third card of the same rank comes in the community cards, it is referred to as a set.
Two pairs – This is possessing two separate pairs of cards of the same rank. An example would be two kings and two sevens.
One pair – This is possessing two cards of the same rank such as two eights.
High card – This is possessing no matching cards of the same rank and following the hierarchy of the following, starting with the highest: ace, king, queen, jack, ten, nine, eight, seven, six, five, four, three, and two.
How To Play Better Poker: Beginner Strategy
As a beginner in Online Poker, it is easy to get caught up with emotions and make questionable decisions. You might bet too much on a mediocre hand, or too little on a possible winner. Here are some tips for players that are just starting out with Online Poker:
Fold Often – An important thing to remember is that there is no award for which player wins the highest number of pots. Wins and losses are measured solely in chips and dollars. It is also important to remember there is no cost to folding a hand when not in the blinds, so we have the option to be at least somewhat picky with our hand selection. There is a mathematical advantage to having a better starting hand than the opponents and that mathematical advantage is compounded over days, weeks, months, and years.
Call Less Often Than Is Comfortable – Calling often feels like the easiest play to make, but it is quite often the worst play. Raising and folding are generally the better avenues for expected value.
Folding protects the remainder of the stack that isn't in play and is a defense against being nickeled and dimed by a player value betting a superior hand. While there are many advantages to raising, there is one simple and wholly important factor to a raise. An opposing player can't fold if they are not given the opportunity to do so.
You Can't Win Them All – Losing hands is simply part of the game. Whether it be trailing in a hand the whole way or by a seemingly miraculous river card answering the prayers of a desperate opponent, losses happen. It is of the utmost importance to not let a previous hand or bad beat negatively affect future hands. Use the bad beat hands for what they truly are: information given on how to beat an opponent in similar hands in the future. Put far more weight in the information obtained than the unluckiness in the tiny one-hand sample size.
Poker Odds Calculator – There are some percentages in poker that should be committed to memory after just a short time playing, but a poker odds calculator can help initially with just how likely or unlikely a given outcome is in a given situation. The most common actionable percentages concern open-ended straight draws and flush draws and should be the first ones committed to memory.
An open-ended flush draw, which has eight outs, has a 31.5% chance of hitting with two cards to come after the flop. A flush draw, which has nine outs, has a 35% chance of hitting with two cards to come after the flop. There are many tools available whether it be a chart to see a number of outs in a given situation or a tool to enter specific cards to see the percentages at each juncture.
Bluffing In Online Poker
Bluffing is one of the most used terms in poker, but understanding how and when to bluff is what is lost on so many. Consider a bluff a work of art and painting a picture that you want your opponent to see. You have to paint a believable picture as to what hand you might have made to make a bluff successful.
Knowing who to bluff is an important aspect as well. If there is a wild and loose player playing every hand, the chances of executing a bluff, no matter how perfectly set, up are much lower than the chances of success against a tighter player who plays few hands and even fewer hands to showdown.
Attacking weakness while in a favorable position is another key aspect of bluffing. The latter position is a more favorable position as we are gathering information with every action in every hand. When a player checks, it is generally a sign of weakness and being the last to act is an advantage in these situations.
Betting into a player who has checked in front of you on a flop is an effective way to bluff. Note that the success rate here is much higher in head-to-head flops and the chance of success dramatically decreases as the number of players in the hand increases.
These are some basic bluffing strategies and as the experience racks up, there will be more in-depth concepts to search and learn about, such as floating, third bullets, and bluff math.
At the onset of the online poker journey, just sit back and wait for a while and take it all in. Bluffing isn't something you need to fire away within your first session. As you learn the layers of the game, you will also learn the best timing for bluffing, and this will come as the experience piles up.
Generally speaking, online poker can be played on any modern device connected to the Internet. Whether it be a phone, tablet, or computer, online poker sites are just a click away, regardless of the device platform. Whether it be on an app or a browser, at home, or on the go, providers make logging on quite easy.
Creating an account is as simple as any other online account creation. The provider will need access to the user's location to ensure the legality of play inside proper state lines and players will need to be at least 21 years of age.
Choose What Type Of Poker You Want To Play Online
There are many different variations that fall under the poker umbrella, but the most commonly played is Texas Hold Em. Other poker games available include
Seven Card Stud
This game features each player having their own cards exclusive to their hand, without any community cards. Each hand begins with antes instead of blinds and then each player receives two cards down and one card up. The player with the lowest upcard is the "bring in" which is a forced bet at half the set amount of the bet.
Each player then has the option to call, raise or fold. Once completed, each player then receives another up card. There is another betting round without a forced bring-in that begins with the player with the best hand face up. This is repeated two more times, and each betting round and card dealt are often referred to as streets.
After the sixth street, each player will have two down cards and four up cards. The seventh card is then dealt face down with a betting round, followed by a showdown, and the pot is awarded to the best five-card hand.
Seven Card Stud Hi/Lo
This is a split pot game where the structure is exactly the same as the seven-card stud above, but the pot is split. At showdown, half the pot is awarded to the best high hand and the other half is awarded to the lowest hand.
Omaha
Omaha is very similar to Texas Hold Em in its structure. The difference is in the initial dealing, each player receives four down cards as opposed to the two in Texas Hold Em. The five community cards on the board and betting rounds are identical to Texas Hold Em with a large difference at showdown.
Omaha requires a player to use exactly two cards from their own hand and three cards from the community cards to make the highest hand by the rank of order. In Texas Hold Em a player has no requirement of how many hole cards they must use and either zero, one, or two is allowed. There is no flexibility in Omaha and it must be exactly two cards.
Omaha Hi/Lo
This game is identical in structure to Omaha but is a split-pot game. At Showdown, half the pot is awarded to the high hand and half the pot is awarded to the low hand. In this format, as well as in Seven Card Stud Hi/Lo, to make a qualifying low hand, a player must have five cards with a rank of eight or lower.
If the community cards make it impossible to have a low hand or if no player has a qualifying low hand, the pot is not split and is awarded in its entirety to the player with the best high hand. The term "eight or better" is used to describe needing a qualifying hand for the low hand.
Razz
Razz is identical to Seven Card Stud in its dealing, structure, and betting, the difference comes in the type of hands a player is trying to make, as it is a lowball game. It can be played as "ace to five" or "deuce to seven." Ace to five means straights and flushes are not counted against making a low hand and the best possible hand that can be made is the titled ace to five.
Deuce to seven format means any straight or flush would be counted, rendering any hand to make a straight or flush completely worthless in a lowball game. Note that low hands are calculated by the high cards first and for example, a hand of seven, six, five, four, or two would beat a hand of eight, five, four, three, or two.
Draw
This form of poker is played with antes instead of blinds and sees each player receive five down cards. After a betting round, players can then draw cards to attempt to improve their hands. The number of draws is predetermined at the start of the hand and there are no community cards or up cards in this game. No cards are exposed in this game until the showdown. This game is played as a high hand game.
Lowball
This is identical in structure to draw poker but is played to make low hands as opposed to high hands.
After choosing which game to play, the next step is choosing the betting structure. There are three options for betting structure and some poker games are played more purely with a specific type of structure.
No Limit – This means a player can bet anywhere between the minimum bet and the entirety of their chip stack at any betting round. Texas Hold Em is best played as a no-limit game.
Pot Limit – This means a player can bet anywhere between the minimum bet and the current size of the pot at any betting round. Omaha is best played as a pot-limit game.
Fixed Limit – This means the amount of each bet and raise is a specific figure for each betting round. Stud is best played as a fixed-limit game.
Cash Game, Tournament, Or Sit n Go?
Once the specific game and betting structure has been selected, the next step is to identify the type of game to play. Online poker sites generally provide three options for this.
Cash Game – This is the type of game in which the chips in play are actual currency and dollars and cents bet, won and lost represent real money of the same value. Players are free to rebuy or reload at any time, up to the table maximum. Players can also cash out at any time.
Tournament – This is the type of game in which a player buying in receives a fixed amount of tournament chips, non-representative of real money. The blinds and antes increase on a fixed timer in tournaments. These tournaments are almost always multiple tables of players with the same starting stack of tournament chips. Unlike a cash game, a tournament is played until all players have lost all their chips to just one remaining player. Players do not have the option to cash out and must remain to play until they are eliminated or the winner of the tournament. Many tournaments offer a re-entry or a rebuy option that allows a player to restart the tournament if they are eliminated in the relatively early stages. Tournament payout is generally the top 15 to 20 percent of the field, and players are paid a percentage of the prize pool relative to their place of finish.
Sit and Go – This is a single-table tournament that is limited to only a single table and generally pays out approximately one-third of entrants. Like a tournament, it is played until one player holds all the chips and all other players have been eliminated. These are ideal for tournament players who do not have multiple hours to invest in a multi-table tournament but still want to play a tournament structure versus a cash structure.
When playing at Online Poker sites you play against other poker players via the internet. It is available in a wide variety of poker variations and stakes. It is important to note that when discussing online poker, the games in question are player vs. player and not player vs. the house.
It is not a table game with a set odds payout that is played against the game operator. Instead, the game operator takes a small percentage of every pot, known as the rake. Online poker games include (but are not limited to) Texas Hold 'em, Omaha, Stud, Razz, Omaha Hi/Lo, Draw and Draw Lowball.
Online poker has the exact same rules and structure as the games played in a brick and mortar venues, with the largest difference being the pace of the game. Online poker moves exponentially faster since it lacks the wait time created by the human element of the game. Online poker removes human delay conditions such as the shuffling and dealing of the cards by a dealer, players who are unaware it is their turn to act, and interpretation of winning and losing hands at a showdown.
Another perk to the pace of online poker versus a brick and mortar (B&M) venue is the ability to play multiple tables at once. Where a B&M venue clearly only allows a player to be playing and active at a single table, online poker allows a player to play at as many tables as they choose to, whether it be in poker cash games or tournaments. An additional table is always just a click away.
How Did Online Poker Become So Popular?
The "poker boom" as it is known, began in 2003 and centered around a chain of events with the most notable being Chris Moneymaker making the unlikely run to win the main event of the World Series Of Poker after gaining entry into the $10,000 buy-in the tournament on an online $86 satellite win.
Moneymaker was working as an accountant and played online poker casually as a hobby. He arrived at the 2003 main event, ticket in hand, to play in his first-ever live poker tournament. When the dust settled, Moneymaker finished first of 839 entrants and took home the $2.5M first prize.
The effect of this was two-fold. The win, in a way, legitimized online poker as this was the first time the main event winner came from an online background as well as the first time the winner qualified for the main event online. In addition, mainstream coverage on ESPN was getting lots of runs.
A contributing factor to the amount of televised poker was the NHL lockout in the 2004-2005 season. ESPN had air time to fill and a large portion of that went to televising the 2003 main event. The effect this had on poker interest can't be understated, evidenced by main event entries by year:
2003: 839 entrants
2004: 2,576 entrants
2005: 5,619 entrants
2006: 8,773 entrants
2007-2022: Consistent around 6000-7000 entrants
There was another major contributing factor to the boom. Even before Moneymaker's win, in the spring of 2003, The Travel Channel premiered their series called The World Poker Tour (WPT). This series featured a weekly poker tournament from a different international location, and broadcast the final table of the high buy-in tournament.
The show was the first broadcast in the United States to feature pocket cam technology, which allowed the viewers at home to see the hole or down cards of the players and brought a new element of entertainment to poker on television. This made the series an instant success, as it still airs today, but the timing of the introduction of the pocket cam simply can't be understated.
After seeing the success of WPT, ESPN adopted the pocket cam technology when they aired the 2003 WSOP, and is arguably the feature needed that made the poker boom possible.
Moneymaker's win not only legitimized online poker, but it made the casual player much more apt to play in the comfort of their own home. There is a real level of attractiveness to being able to gamble real money in a combo skill/luck-based environment without having to leave one's home, or even get dressed for that matter.
Online poker quelled small insecurities for the casual player. Where one might worry about etiquette, terminology, or results at a table in a B&M casino, online poker allowed for anonymity of sorts and removed the potential for embarrassment stemming from a lack of experience at live poker.
All factors considered, there simply isn't much of an argument against online poker versus live games from a convenience and comfortability perspective.
Previously discussed were the poker boom and the rise of online poker. What was not discussed were the previous legality issues that caused the temporary fall of online poker. Those issues are currently being sorted through on a state-by-state basis, with some states having already put legal online poker into law and having operators active in those states.
Department Of Justice Timeline Of Events and Interpretation
From the time of inception of all forms of online gambling up until the year 2011, the United States Department of Justice was steadfast in that all forms of online gambling were illegal, including online poker. The basis of their stance was The Interstate Wire Act of 1961, or what is commonly referred to as "The Wire Act". The gist of this act was that any gambling activity including the transfer or wiring of funds was deemed to be illegal.
In 2011, the stance shifted as it was concluded that The Wire Act only covered the scope of gambling on sporting events and did not exclude or make illegal other types of gambling such as card games, poker, and state lotteries. This opened the door for state-by-state legislation to make online poker sites a fully legal and safe venture.
In the time since then, there has been progressing on legalization on a state-by-state basis and we now have online poker available and legal in multiple states with more to follow. So far, five states have legalized online poker. Those states are New Jersey, Nevada, Delaware, Pennsylvania, and Michigan. There will be many more states to follow in the footsteps of the online poker pioneer states. There are also multiple states that have passed legislation allowing reciprocity with other states that have legalized online poker, meaning players in differing legal online poker states can play against one another.
New Jersey
New Jersey signed Internet Gaming Legislation into law on February 26th, 2013 with the launch of online gameplay on November 21st, 2013.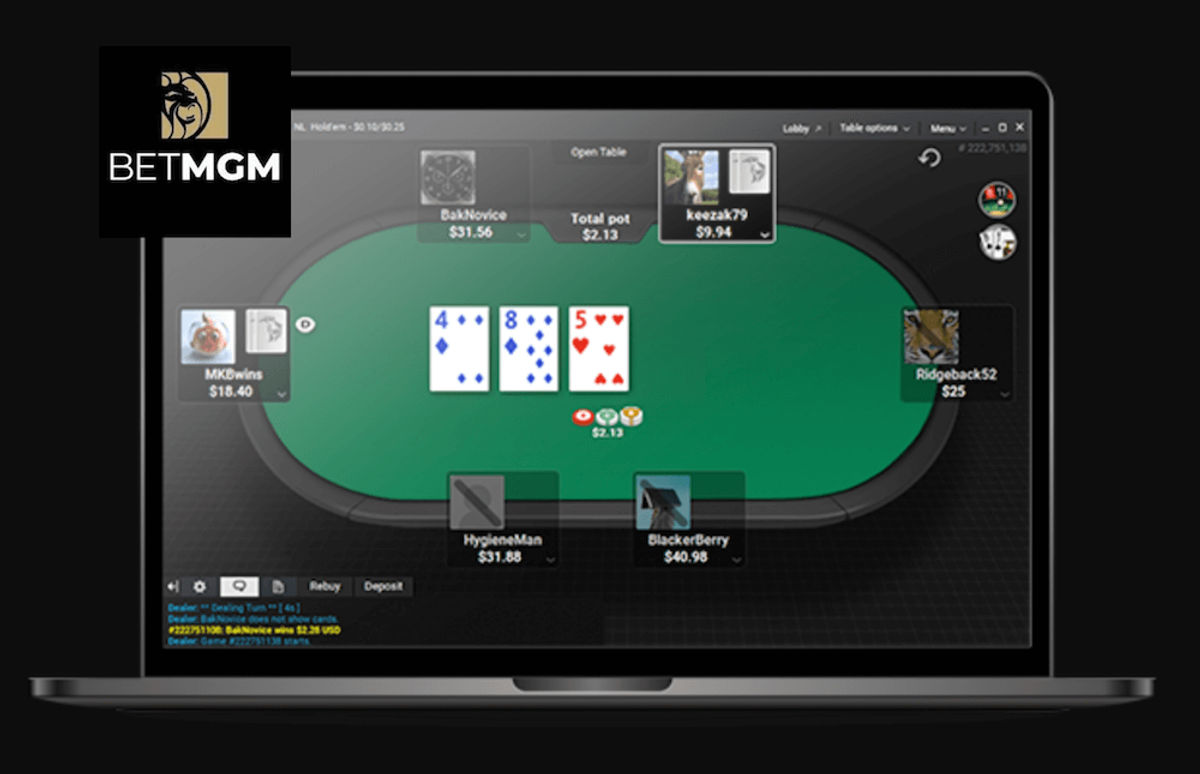 BetMGM Poker
Current online poker sites in New Jersey:
BetMGM NJ
PokerStars NJ
Pala Poker NJ
888 NJ
New Jersey currently has reciprocity with the states of Nevada and Delaware.
Pennsylvania
On October 20th, 2017 the bill known as H 271 in Pennsylvania was signed into law, making online poker a fully legal endeavor.
There are few poker sites to choose between in Pennsylvania and our favorite online poker room is BetMGM. Mort online poker rooms are expected to launch. in Pennsylvania, and the following operators have received licenses to do so:
Pokerstars
SugarHouse
Harrah's
Hollywood Casino
Mount Airy
Parx
Valley Forge
Wind Creek
Pennsylvania does not have reciprocity with other states and play is currently for Pennsylvania only.
Nevada
Nevada's online gaming bill became law on February 25th, 2013. This allowed the state gaming commission to issue online gaming operator licenses.
Current online poker sites in Nevada:
Nevada currently has reciprocity with the states of New Jersey and Delaware.
Delaware
On June 28th, 2012 the Delaware Gaming Competitive Act was signed into law, legalizing online poker in Delaware.
In Delaware, 888poker, the same company that provides their lottery system and the same software is offered through three racinos (horse racing track and casino):
Delaware Park
Dover Downs
Harrington Raceway
Delaware has reciprocity with the states of New Jersey and Nevada.
Michigan
Online gambling in Michigan went live early in 2021. It was the fourth state in the US to allow mobile online casino gambling. FanDuel, DraftKings, and BetMGM were the three first operators to open up for gambling-thirsty Michigan residents.
Is Online Poker Illegal In Any States?
There are three states in which there is legislation making it illegal to play poker online. Those states are Louisiana, Utah, and Washington.
One might ask, what does this all mean for my own security of play? The truth is, this is the first time that online poker is truly legal and not just able to operate in a gray area.
It is the first time that players can play online poker with complete confidence in the legality of what they're doing and not have to worry about a shutdown or any other catastrophic event.
The gist is, that once it is legal in your state, there shouldn't be any reservations at all about playing online poker.
Unless you are an experienced online poker player, it is likely prudent to start off small, or perhaps to play for free until you have a full grasp of the game being played. This includes being comfortable with the pace of the game, the rules of the game, and having at least a rudimentary understanding of game strategy.
Whether your bankroll is $10 or $10,000, the management of those funds is of the utmost importance. Managing your available funds is as important as how well you play the game.
Bankroll Management
When beginning online poker, you should have a set amount of money in mind that will be purely dedicated to online poker. This amount should have no bearing on other aspects of life and should be set aside solely for online poker, and is referred to as your bankroll. Your bankroll isn't necessarily the exact amount of money in your online poker account, but instead the amount you have designated to be used for online poker, regardless of where the funds are currently held.
Buy-ins
Once you have your bankroll figure set, the next step is to identify what percentage of that bankroll should be put in play at any given time. Whether it be for a cash table buy-in, a tournament buy-in, or a sit-and-go buy-in, it is prudent to keep the buy-in figure at around two percent (2%) of your total bankroll.
Let's use an example of what to expect with a $500 bankroll.
2% of $500 is $10. That's fairly simple to figure out, but it gives a great guide as to the buy-ins that should be played. Tournaments and sit-and-go's in the $10 range should be the target. If the tournaments have re-buys and add-ons, that portion should be considered as well as the actual cost may be much greater than the sticker price on the tournament.
Tournament buy-in is fairly straightforward, but it can be a little trickier for cash games. The blinds in a proper bankroll fitting cash game will seem quite small in relation to the bankroll amount, but longevity and management are absolutely paramount. Generally speaking, the maximum buy-in allowed at a cash table is one hundred times the big blind.
With this information, we need to find the blind level that best suits our desired $10 buy-in level. Simply divide our buy-in by 100 and you will find the big blind level you are looking for, and in this instance, it would be $0.10. This means the ideal cash game for the bankroll would be $0.05/$0.10.
Session Limits
Setting goals and limits in sessions is a helpful tool. If playing a cash game and reaching a predetermined precipice of profit for that day, it's going to be prudent to take that profit and cash out for the day. Generally speaking, two to three times the buy-in amount is very much a successful day.
On losing days, limiting the number of buy-ins at a cash table will be equally equitable in the long run. On the conservative side, two buy-ins are a good place to step, while three buy-ins are on the more aggressive side.
Understanding the variance level of the games being played is another way to know the proper amount to be played. A cash game will have a much lower variance level than say a turbo tournament or sit and go. The player playing cash games exclusively will be more comfortable with their bankroll as the variance of outcome in their play will pale in comparison to the much higher variance turbo tournament sit and go, player. For reference, the term turbo refers to the high rate of blind increase in these tournaments.
Keep your decision-making intact
In a general sense and for most players, the lower percentage of their bankroll in play has a strong correlation to their level of decision making and play. Simply put, the less the amount of money that stands to be lost will negatively impact them, the better they play.
This rule of thumb is an important one to consider when considering a jump to higher stakes, as there are more factors in play than just the linear increase of buy-in. The comfortability level of the player in question when making a higher wager can have reaching effects, especially when it is on the uncomfortable side of the spectrum.
When considering a jump in stakes after success and an increase in bankroll, it is almost always best to wait a bit and take the conservative approach. Play the game for profit, not for a life-changing outlier.
There are certain traps to avoid for the bankroll management of beginning players. Multi-table tournaments generally take the better part of a day for completion, often have rebuys and/or add ons, and are high variance. When starting out, keep the tournament play to smaller and quicker tournaments like sit and go to gain a level of comfortability and not have the bankroll take an unexpected hit. Another thing to avoid on cash games as a beginner is the "auto top" option.
This is a feature that the site allows a player to turn on that keeps their stack at a cash game at the maximum allowed table buy-in after any hand in which the player's stack dips below that precipice. While this is a value add for experienced players and after time becomes recommended, it is a virtual sure way for inexperienced players to end up with more in play than initially intended.
Finding The Best Sites For Online Poker
Use our CasinoTalk.com reviews to find the site or sites which best fit you. It is important to find the right fit and is paramount to get the most bang for your buck on bonuses when first starting out. Let the reviews guide you and use your own preferences to set yourself up in the best spot to win.
There are many different sites in each given state, and you should leave no stone unturned when making your selection. Check them all out and vet all games and limits offered and compare the pros and cons of all your options.
Picking your best fit isn't all said and done once you've signed up for a given online poker site. Continue to analyze your fit, results, and enjoyment, and perhaps even start out on two different sites if the bonuses and games offered are comparable and favorable to the ones desired. If the fit is not a good one, don't fight it. There are other sites out there and it's okay to make a change.
Our top pick when looking for the best online poker experience always includes one of the following legal online casinos; BetMGM online casino, Caesars online casino, Fanduel online casino, and DraftKings online casino.