Crap was originally called Hazard and first played in the United Kingdom in the 14th century. Later Hazard became popular in France and got the name Crapaud, which means Toad, rumor says it was because the craps players were sitting on the streets like Toads while playing craps.
Another country, this time the USA, started playing Crapaud but renamed it to Craps, which has been the name since 1830. The rules of Craps are slightly different from the original Hazard, with more wagering options.
Craps is a table game played with two dice. When wagering on Craps you bet on different number combinations. The goal with craps is to establish points, one point is the sum of 4, 5, 6, 8, 9, or 10 of the two dice. Players stand around a table, the craps table, and once all players have placed their bets the player on the left-hand side of the dealer chose two dice.
There should always be 5 dice to chose from. Only players betting on Pass Line or Don't pass are allowed to throw the dice. The dice are thrown towards the opposite side of the craps table. If you win and how much you win is decided by the sum of the numbers shown on the dice.
The game always starts in OFF mode and the "puck" is showing OFF until the game goes into ON mode in which case the dealer turns the puck to show ON. Once all bets are in place the dealer hands the dice to the player who then throws the dice to start the game.
Off Mode means that there are no points established. The starting/first throw in OFF mode is called "Comeout Roll". There are 8 types of bets that can be made in OFF mode.
Wagering types in OFF mode
Pass Line
Horn Bet
Don't Pass
Over/Under 7
Field
Seven
Any Craps
C/E
As soon as the dice show a sum of 4, 5, 6, 8, 9, or 10 the game moves into ON mode as those numbers generate a point. In ON mode players have a few more betting options:
Wagering types in ON mode
Pass Line
Any Craps
Don't Pass
Horn Bet
Field
Hardways
Come
Over/Under 7
Don't Come
Any Seven (Seven, Big Red)
Place bet (Total sum of the two dice)
C/E
Pass Line Bets
These bets start with the Comeout roll and are directly paid out 1 to 1 in case the dice roll shows a 7 or 11. The bet is directly lost in case the roll is a 2, 3 or 12. All other outcomes 4, 5, 6, 8, 9 and 10 will prolong the pass line betting sequence and the number shown will the object of the game. Your pass line bet is won or lost depending if the seven (lost bet) or the object number (winning bet) is rolled first independently on how many turns it will take for this scenario to happen.
Example: Comeout roll shows 6. In the following turns the dice rolls 5, 8, 11, 10 and then a 7 which means you lost the bet. In case a 6 would have shown before the 7 the Pass Line bet would have been successful.
Come Bets
Come bets are identical as Pass Line bets with the only difference is that they are made once there is a point, i.e the game is in ON mode. Come bets are won and lost in the same way as Pass Line bets – 7 or 11 (win), 2, 3 or 12 (loss) and any other number becomes the point for your come bet.
One thing to keep in mind is how the numbers can affect your come bet and pass line bet differently even though they are basically the same. For example if the dice roll shows a 7 your come bet will result in a win while a 7 would result in a lost pass line bet.
Don't Pass and Don't Come
These are the opposites to Pass and Come bets. You are betting for the pass and come bets to be losing which would result in a don't pass or don't come scenario = Winning bet for anyone who bets on don't pass or don't come.
7 and 11 would result is a lost bet. 2 and 3 are winning bets and 12 gives you even money back. Any other number becomes the point and continues to either that number or a 7 is rolled. Rolling a 7 would be a winning bet and the other number a lost bet.
Betting on don't pass and don't come in a land-based casino is usually not as fun as betting the Pass or Come for one simple reason, you are rooting for the thrower and pass and come bets players to lose (basically going against the crowd).
Place Bet
Place bets are perfect if you do not want to wait for the shooter to set a pointer on the comeout. Place bets are betting on that the shooter will roll the number you are betting on before he rolls a 7.
Place bets payback is
7-6 odds on 6 or 8
7-5 odds on 5 or 9
9-5 odds on 4 or 10
The Field
Field bets usually pay even money but pay 2-1 if the roll is 2 or 2-1 and sometimes up to 3-1 if the roll is 12. You win on any roll that shows 2, 3, 4, 9, 10, 11, or 12.
Any 7
Bet on a 7 to show on the roll and if it does you are paid 4-1.
Any Craps
This bet is paid 7-1 if any of the following numbers are shown – 2, 3 or 12.
Horn Bet
A horn best is a bet on 2, 3, 11 or 12 where the 2 and 12 pays 30-1 and the 3 or 11 pays 15-1.
Hardways
A hardway bet is a bet on that the two dice will show the same value. You can for example bet on two fours and your bet will be won only if two fours are shown.
The craps table can at first look at bit complicated as just looking at the table is not self explanatory unless you know how the game is played and how the different wager types work. Compared to a Roulette table or a Blackjack table Craps is a more complex game but once you master Craps we can assure you will get hooked.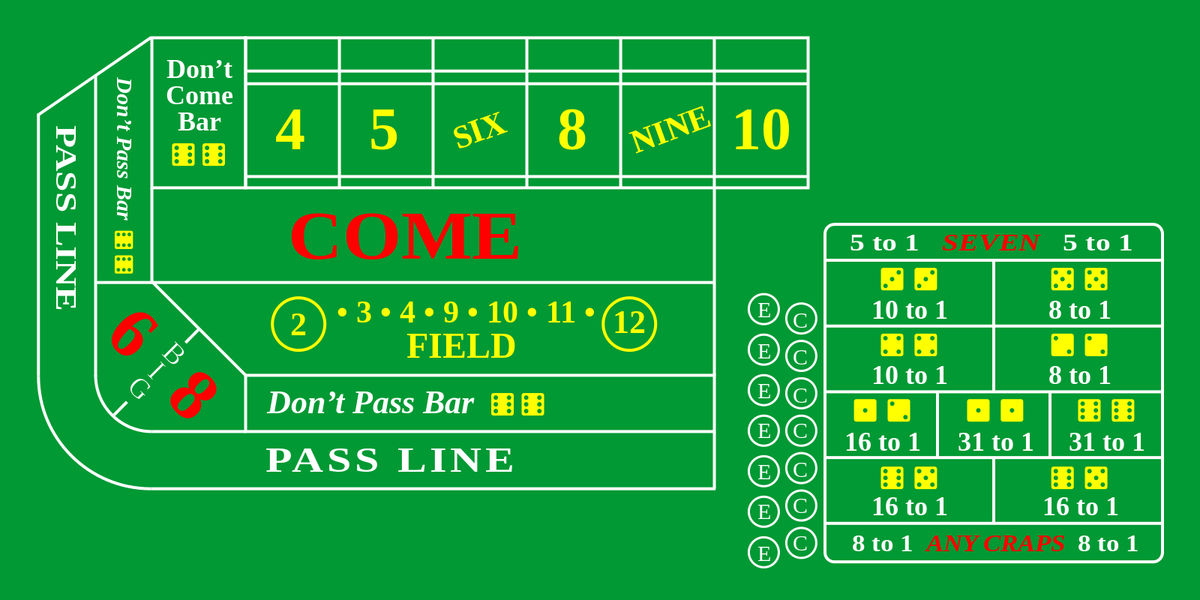 Knowing the odds is always a good start before putting your money at risk. 7 is the most likely outcome in a roll with two dice. The best way to demonstrate this is to roll one dice at a time. The 7 will always be a potential outcome no matter what the first dice shows.
Examples:
First dice shows 5. Any number from 2-5 and 12 are excluded as a potential result after rolling the 2nd dice.
First dice roll shows 2. Any number from 2 and 9-12 will be excluded from any potential outcome after the 2nd dice is rolled.
7 will therefore in average be shown on 1/6 rolls (16,70%).
Dice Roll Sum and Probability
2
2,70%
8
13,90%
3
5,50%
9
11,10%
4
8,30%
10
8,30%
5
11,10%
11
5,50%
6
13,90%
12
2,70%
7
16,70%
Bet or Wager Type
True Odds
Payout
House Edge %
Pass Line or Come Bet
251 to 244
1 to 1
1.414
Don't Pass or Don't Come Bet
976 to 949
1 to 1
1.402
Pass Line/Come Bet/Buy Bets (5% Commission)
Numbers 4 or 10
2 to 1
2 to 1
4.760
Numbers 5 or 9
3 to 2
3 to 2
4.760
Numbers 6 or 8
5 to 6
5 to 6
4.760
Don't Pass/Don't Come Bet/Lay Bets (5% Commission)
Numbers 4 or 10
1 to 2
1 to 2
2.440
Numbers 5 or 9
2 to 3
2 to 3
3.230
Numbers 6 or 8
5 to 6
5 to 6
4.000
Field Bets
3,4,9,10, or 11
–
1 to 1
5.500
2,12
–
2 to 1
5.500
Place Bets
Numbers 4 or 10
2 to 1
9 to 5
6.700
Numbers 5 or 9
3 to 2
7 to 5
4.000
Numbers 6 or 8
6 to 5
7 to 6
1.520
Hardways
6 or 8
10 to 1
9 to 1
9.090
4 or 10
8 to 1
7 to 1
11.100
One Roll Bets
Any 7
5 to 1
4 to 1
16.900
Any Craps
8 to 1
7 to 1
11.100
2 Craps or 12 Craps
35 to 1
30 to 1
13.900
3 Craps or 11 Craps
17 to 1
15 to 1
11.100
Horn Bet(3 or 11)
–
3.75 to 1
–
Horn Bet(2 or 12)
–
7.5 to 1
–
Big 6 or 8
–
1 to 1
9.090