PA Interactive Gaming Revenues Report January 2020
January 23, 2021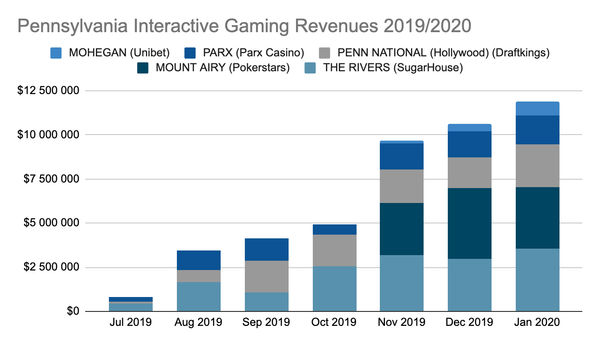 Pennsylvania Online Gambling officials have released the January 2020 revenues report for all interactive gaming operators in Pennsylvania. The numbers show continued growth for almost all operators and the industry as a whole, even though December was. In January, the total interactive gaming revenue was $11,800,273.
The operator behind SugarHouse Casino, The Rivers, tops the chart in terms of revenue in PA, with interactive gaming revenues of $3,55 Million. The brand has been in the front seat of PA online casinos since the start in July 2019 and continues to show a compounded monthly growth rate (CMGR) of 120% per month.
Hollywood, DraftKings and Unibet are booming
Penn National Gaming, the owner and partner of Hollywood and DraftKings, shows a CMGR of 266% over the last seven months and seems to have a great momentum going into 2020, stepping in as the second-largest slot and table game casino after SugarHouse.
Unibet just launched in November 2019, and are still growing rapidly with a CMGR of 199%. However, this growth might fade as Unibets presence matures on the market. As an already global brand, Unibet has all the tools to continue growing in the state.
Pokerstars Dominate the Poker Segment
Mount Airy, who stands behind Pokerstars, drops in as the second-largest interactive game operator overall, with total revenues of $3,48 Million, which is the only declining revenue from December of all the brands. What's interesting is that they are the only brand that offers online poker in the market, which corresponds to over $2 Million of that revenue. Moving forward, it will be crucial that online poker holds ground against newer offerings such as slots and banking casino table games.