Pennsylvania's gambling scene was virtually non-existent back in 1962. However, things changed a bit in November when the construction of Western Pennsylvania's first pari-mutuel horse racing track commenced. Seven months later, in June 1963, the Meadows was officially opened.
The Meadows has witnessed its share of historical moments since it first opened. The track's operators are credited with introducing two significant technological advancements. In 1983, The Meadows unveiled its Call-A-Bet platform letting bettors create betting accounts and then call in their wagers for upcoming races. Also, The Meadows Racing Network began airing daily telecasts through local cable companies. These telecasts included a 30-minute show that previewed the day's races.
The Meadows Casino – Brief History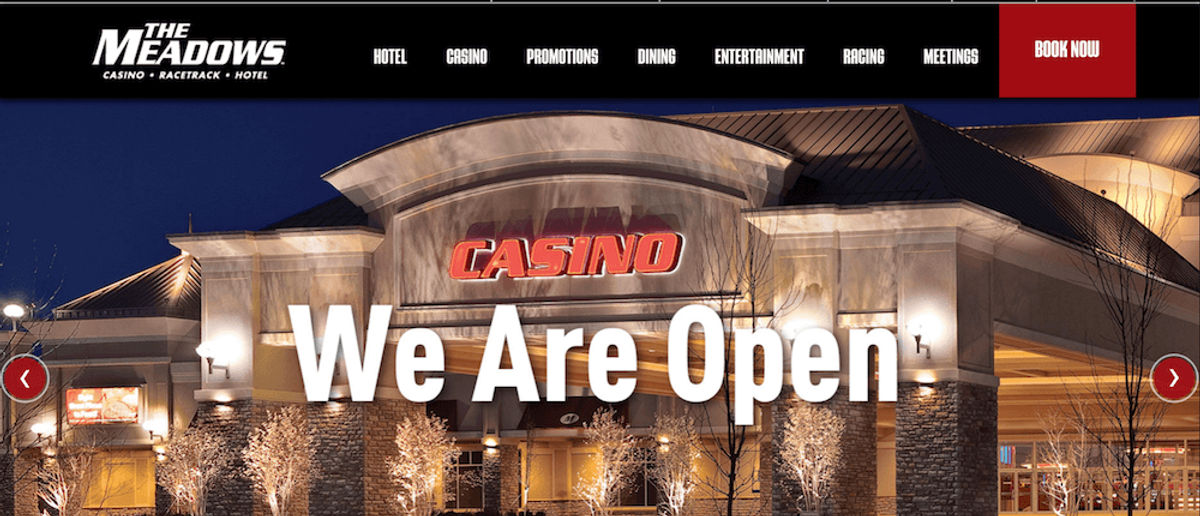 Meadows Racetrack and Casino
The Meadows has undergone several ownership changes since it opened. It first changed hands in 1973 when the Washington Trotting Association sold it to an ownership group that included famed trainer/driver/breeder Delvin Miller. Mr. Miller then sold it to a Pittsburgh lawyer who quickly sold it to the Ladbrokes Group in 1988. It is currently owned by Gaming and Leisure Properties which operates 44 other casinos throughout the United States.
In 2010, after a series of court challenges and other setbacks, The Meadows officially opened a permanent casino that features a wide range of casino games, restaurants, and a modern 24-lane bowling center. One of the latest additions to the complex is the DraftKings Sportsbook which opened in October 2019. In addition, with Penn National Gaming being responsible for the operation of the Meadows Casino, the Penn Gaming owned Hollywood Casino is to become the online casino partner to Meadows.
Horse Racing at The Meadows Racetrack and Casino
The Meadows Racetrack and Casino are among the few venues in the United States to have racing year-round. While racing days vary, the site holds races on over 200 days each year. Mondays, Tuesdays, Wednesdays, and Saturdays are particularly busy. On off days, horse racing fans can watch and wager on races from other tracks around the country.
The race track is a 5/8 milestone dust oval that hosts several stakes races. The Delvin Miller Adios Pace for the Orchids, Arden Downs, Pennsylvania Sire Stakes, and the Keystone Classic are the most notable annual events. In addition, the Meadows Casino and Racetrack feature operated betting windows and self-service kiosks.
Placing a bet couldn't be easier. Walk up to one of the tellers, state the track name where your horse is racing, the number of the race, how much you want to bet, the horse's number, and the type of bet you want to make—for example, The Meadows, Race 5, $10 to place on Number 2. Using the self-serve kiosks is equally as easy.
There are many different types of bets you could place. The Win bet is the easiest to understand. You're simply betting on which horse will win the race. With a Place bet, you are wagering on the horse to finish first or second. You need your horse to come in first, second, or third to win a Show bet. Here are some other common horse racing bet types at The Meadows Racetrack and Casino.
Daily Double: Pick the winners of two consecutive races.
Exacta: In exact order, pick the first two horses to cross the finish line first.
Trifecta: In exact order, pick the first three horses to cross the finish line.
Superfecta: In exact order, pick the first four horses to cross the finish line.
Pick 3: Pick the winners of three consecutive races. The Pick 4, Pick 5, Pick 6, and so on follow the same idea, but you need to pick winners of 4, 5, or 6 consecutive races.
There are plenty of free resources and detailed tutorials that beginners and experienced horse racing bettors can refer to. Don't hesitate to ask a staff member to show you the ropes.
This state-of-the-art casino, opened in 2010, offers visitors a well-rounded, safe, and exciting casino gambling experience. It doesn't matter if you want to play slots, table games, poker, or bet on sports; the Meadows Racetrack and Casino have a match for you.
Slots and Video Poker 🎰
The Meadows Racetrack and Casino have over 2,500 gaming machines with various themes and unique features. You can play classic three-reel slots or more modern games with multiple reels and paylines. In addition, there is a good selection of progressive jackpot slot games that give you the chance to win a significant chunk of cash. Lightning Link, Buffalo Gold, and 88 Fortunes are among the most popular machines.
You can find penny slots or machines that let you wager up to $100 per spin. Then, crank it up a notch or two in the High Limit Room, allowing players to bet as much as $375 per spin. Jacks or Better, Aces & Faces, and Progressive Bonus Poker are just a few video poker titles that will keep poker lovers entertained for hours on end.
Table Games 🃏
Does your ultimate casino experience require table games? The Meadows Racetrack and Casino have over 65 tables featuring various casino table games. You'll find an array of Blackjack, Roulette, and Baccarat variants and craps, Big 6, and Sic Bo. There's a massive selection of casino poker games, too, including:
Cajun stud
Pai Gow
Three Card Poker
Mississippi Stud
Four Card Poker
Criss Cross Poker
Let It ride
High Card Flush
Suppose you're looking to up the ante and separate yourself from the riff-raff. The Meadows Racetrack and Casino have the region's most opulent high-limit room, which offers a dozen games, including Blackjack, Roulette, Baccarat, and Craps.
Poker Room 🃏
The poker room at The Meadows Racetrack and Casino has 14 tables that give players a fantastic view of the race track. Texas Hold 'Em, Omaha, and Omaha Hi-Lo are the most popular games. Along with cash games, The Meadows Casino and Racetrack poker room host a variety of tournaments with attractive cash prize pools.
The poker room features a Bad Beat Progressive Jackpot through which you could win over $30,000 if your quads lose to higher quads, a Straight Flush, or a Royal Flush. Of course, you must use at least one hole card to make your hand. That's the type of lousy beat any poker player would welcome.
Sports Betting 🏅
The new state-of-the-art Sportsbook at The Meadows Casino provides sports bettors with the ultimate betting experience. Sit back and relax in the sportsbook's comfortable chairs and contemplate your wagers, including straight bets, parlays, combinations, and teasers. You can bet before the game starts or place live wagers while it's in progress.
The Sportsbook at The Meadows Racetrack and Casino is surrounded by 86" ultra HD TVs which are always showing the most popular games that are broadcast on:
NFL Sunday Ticket
Big 10 Network
SEC Network
Longhorn Network
Regional Sports
Fox Soccer Plus
ESPN College Extra
MLB Extra Innings
Major League Soccer
NHL Center Ice
NBA League Pass
Fox Sports
Golf Network
AT&T Sportsnet
The Sportsbook at The Meadows Racetrack and Casino offers good odds on an array of sports, including:
American Football
Basketball
Hockey
Soccer
Baseball
Golf
Tennis
Auto Racing
Cycling
Boxing
UFC
Sports bettors who come to the Sportsbook at The Meadows Racetrack and Casino to watch a high-profile event will have loads of betting options. A typical NFL game can present you with a couple of hundred possibilities. Sides and totals are just the tips of the iceberg. The exact Score, Winning Margin, Alternative Spreads, and loads of player, team, and game props are available. Then there is the seemingly endless number of live betting opportunities during the game. The Sportsbook at The Meadows Racetrack and Casino is situated on the casino floor outside the Carvery and the poker room. Hours of operation are 2 PM to 10 PM Monday through Friday and 11 AM to 10 PM on Saturday and Sunday.
Online Gambling – HollyWood Casino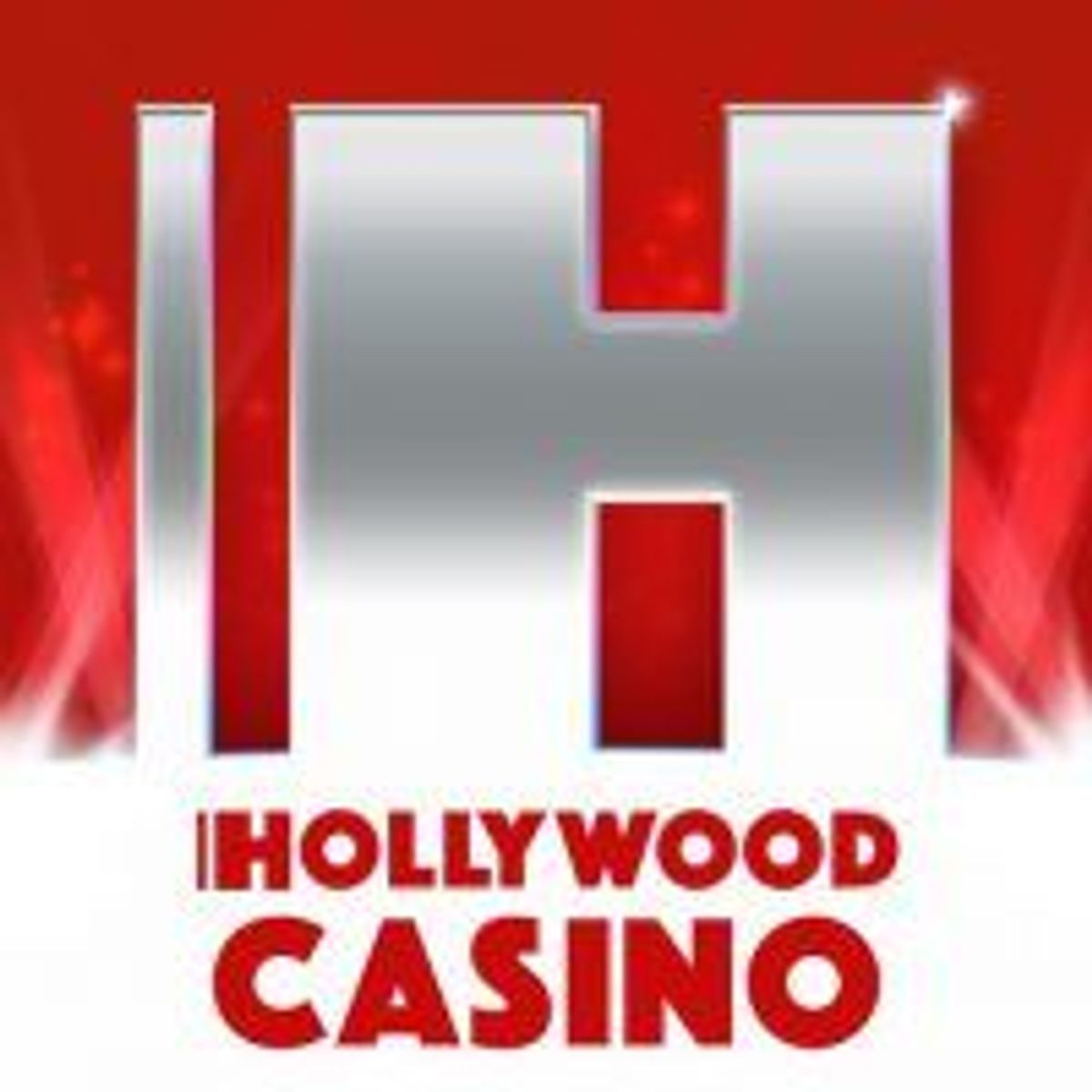 There are times when making it to The Meadows Racetrack, and Casino just isn't possible. Fortunately, those in Pennsylvania can still play their favorite casino games and bet on sports. Hollywood Online Casino features a vast selection of slots, table games, while DraftKings serves up an all-you-can-eat-buffet of sports betting options. It takes mere seconds to open an account, and you can take advantage of some great bonuses and promotions. You also earn Mychoice Rewards playing online.
Amenities
Guests can stay at the Hyatt Place Pittsburgh South Meadows Racetrack and Casino, attached to the casino. Some rooms come with modern conveniences such as a microwave, coffee maker, hairdryer, and exclusive bathroom products. Of course, you'll sleep in comfort in your plush Hyatt Grand bed.
The Meadows Racetrack and Casino is home to six restaurants. Located off of the gaming floor, the Carvery provides hungry guests with limitless buffet dining. There is plenty of poultry, prime rib, fish, and turkey, soups, salads, and delicious desserts. Award-winning Bistecca is the place for prime cuts of beef, while The Eatery By Fabio Viviani serves up tantalizing American, Italian, and Asian fare. In addition, Miller Lite Brewhouse, The Pub, and The Pub Trackside have some excellent craft beers and a variety of tasty pub fare.
One of the unique features of The Meadows Casino and Racetrack is its 24-lane bowling alley. State-of-the-art audio and visual technology surround players with upbeat music and videos. Each lane even has its own 42" flat-screen TV so you can watch sports while you wait for your turn to roll. Unlike at the casino, those under 21 are welcome at the bowling alley.
H Lounge is the perfect spot to finish out your day. The hottest bands from around the tri-state area crank out the music every Friday and Saturday. H Lounge is conveniently located beside The Eatery, and it's free to enter. VIP seating is available too.
FAQ
Can I get free drinks when I'm playing at The Meadows Racetrack and Casino?
Yes. Staff will serve you free beverages while you play, but not alcoholic drinks. There is also a self-serve soda fountain on the casino floor.
Are people under 21 allowed to enter The Meadows Racetrack and Casino?
Yes, but you must be 21 to enter any area that offers gambling.
Can I earn rewards for gambling at The Meadows Casino?
Play your favorite slots, video poker, and table games to earn Mychoice rewards. Betting on horse races, betting on sports, dining, and shopping will also earn you Mychoice Rewards Points. You can use your points to earn access to exclusive events and other perks at 35 destinations throughout the United States.
Can I book a reservation at the Sportsbook at The Meadows Racetrack and Casino?
Yes. You can call ahead to book a table and dine the sportsbook.
Best Online Casinos in PA
New Jersey

Pennsylvania

Michigan

West Virginia