In October 2005, construction crews arrived at a 272-acre parcel of land located close to I-90 in Summit Township, Pennsylvania. Sixteen months and millions of dollars later, Presque Isle Downs & Casino opened its doors to the public. The state-of-the-art facility features a synthetic Tapeta-surface racetrack. It was the first of its kind on an American 1-mile track. The site also boasts a modern 160,000 square-foot casino with nearly 50,000 square feet of gaming floor. Churchill Down Inc. purchased Presque Isle Downs & Casino in 2019 for $178.9 million.
Today, Presque Isle Casino has close to 1,700 gaming machines, nearly 40 table games, and a poker room with nine tables. Sports bettors love the convenience of the 50 BetAmerica wagering booths that are located throughout the casino. Guests can also enjoy a casual retail shopping experience, luxury amenities, and some delicious food at dining establishments like La Bonne Vie Steakhouse and INCafé.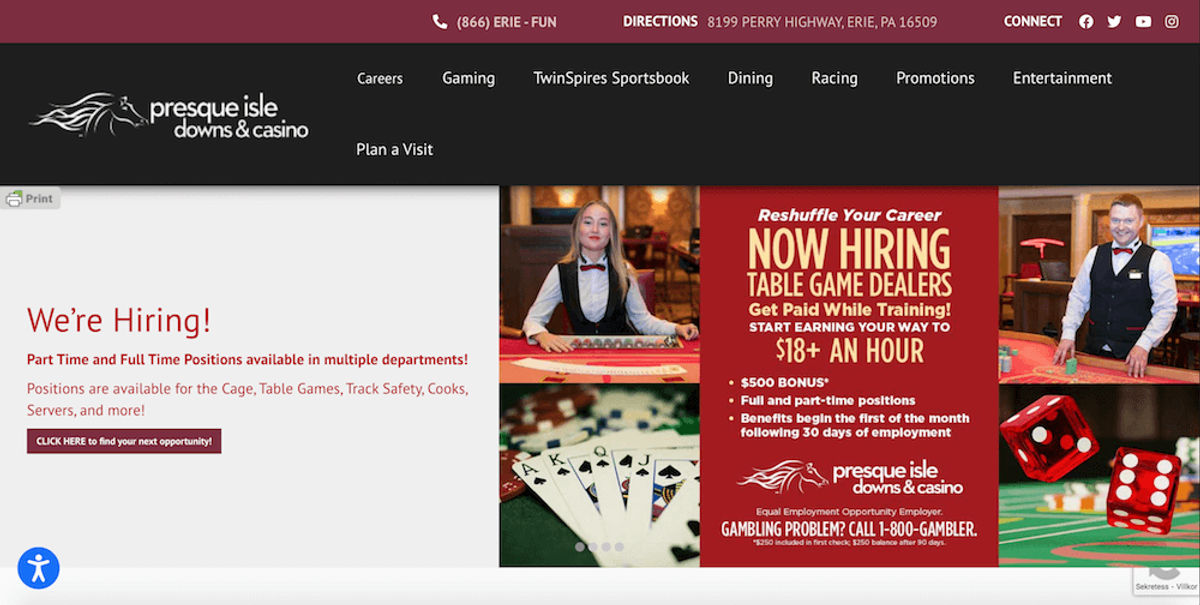 Presque Isle Downs & Casino
The Churchill Downs brand is synonymous with horse racing and entertainment. The company owns Twinspires.com which is the largest horse race betting platform in the United States. Churchill Downs also operates a sports wagering and iGaming on its BetAmerica platform which is available in several states. On top of that, Churchill Downs operates about 11,000 gaming machines and 200 table games in various casinos based in eight states.
Horse Racing at Presque Isle Downs & Casino
Presque Isle Downs kicks off its racing season in May and it runs through until October with live racing generally happening Sunday through Thursday. On off days, horse bettors can place wagers and watch live horse racing simulcasts from across the country. The horse racing season is fast and furious. Presque Isle Downs serves up plenty of races throughout the season, but there are a few events that generate a lot of interest among horse racing enthusiasts.
The first major events go off in June. The Satin and Lace Stakes features 3-year-old fillies and mares in 5.5-furlong dashes. The Karl Boyes Memorial Stake has a similar format and an identical $100,000 purse. Perhaps the biggest annual event at Presque Isle Downs is the $400,000 Presque Isle Downs Master Stakes. This would be followed by the Presque Isle Mile which features a $200,000 purse. The Tom Ridge Stakes and the Fitz Dixon Junior Memorial Juvenile Stakes bring the season to a close.
Gaming at Presque Isle Casino
Presque Isle Downs & Casino has a lot to offer. But it is the Presque Isle Casino that attracts the largest crowds. Presque Island does not offer an inhouse online brand but have partnered up with BetAmerica who offers licensed and legal online gambling in Pennsylvania on behalf of Presque Isle.
Slots & Table Games
The bulk of the massive gaming floor houses the casino's 1,700 slots. King of Africa, Gem Hunter, and Double Diamond are just a few of the more popular slots. As an aside, you can go to the Presque Isle Casino website to find the exact locations of your favorite slot games.
Of course, Presque Isle Casino has an excellent selection of table games too. Blackjack, Roulette, and Craps generate plenty of traffic. So do casino poker games like Let It Ride, Mississippi Stud, and Three-Card Poker. Ultimate Texas Hold 'Em, Pai Gow, and High Card Flush are a few other busy games. Those who like to live large and bet big can venture into the High Limit Room where they can play high-limit slots and table games in relative privacy. They even get free drinks when they are playing on machines that cost at least $5 per spin.
Poker
Then there is the Presque Isle Casino's poker room which is buzzing with activity. The state-of-the-art poker room features nine tables and games such as Texas Hold 'Em and Omaha. In addition to the non-stop cash games, Presque Isle Casino's poker room hosts a variety of multi-table tournaments and Sit & Go tournaments. Is all that exciting poker action making you a bit peckish? No worries. You can order a range of tasty dishes and drinks right to your table.
Sports Betting at Presque Isle
Presque Isle Downs and Casino was quick to get its sportsbook up and running after legalized sports betting in Pennsylvania got the official green light. The onsite sportsbook has everything a modern sportsbook should have including dozens of big-screen televisions, comfortable seating, and several betting kiosks. There are also many more sports betting kiosks located throughout the rest of the casino. The sportsbook celebrated its launch in 2019 after shelling out $10 million for its sports betting license.
The next step for Presque Isle was the introduction of their BetAmerica online sportsbook. Now, Pennsylvania sports betting fans can make their wagers at home on their desktop computers or on their mobile devices while they are on the go. Bettors can wager on a vast array of sports including American football, basketball, baseball, hockey, and soccer. They can make straight bets, parlays, combinations, or teasers. The site gives bettors several betting options for each game. Sides, totals, futures, and loads of props are just the tip of the iceberg. Savvy sports bettors are thrilled that BetAmerica gives the cash-out option.
Presque Isle Downs & Casino Promotions
Presque Isle Casino has some pretty generous rewards for Player Club members. To begin with, you can choose either a Free Play or a Match Play bonus offer when you sign up for your Players Club Card. If you prefer the Free Play option, head over to the kiosk and spin the wheel as soon as you get your card. You are guaranteed to win a prize ranging from $5 to $500. Drop by during the following week and you can do it again.
If the Member Match Play Offer is more appealing to you, then you'll receive two $25 match play offers. As it is with the Free Play bonus, Match Play bonus claimants can stop by during the following week to claim an additional two Match Play Offers.
Player Club members can also cash in on some other great offers. Celebrate your birthday at Presque Isle Casino and you'll get up to $50 in free slot play. Just go to any of the promotional kiosks at the casino to claim your gift. Married couples who celebrate their anniversary at Presque Isle Casino will also receive up to $50 in free slot play. Player Club members are sometimes pleasantly surprised when they get Free Play and Match Play offers through their email.
Using your Player Club Card is a great way to earn more fantastic prizes. Presque Downs Casino gives away $1,000 in free slot play every week with the Great Points Race. Accumulate player points throughout the week for a shot at one of 10 free play prizes which range between $100 and $500. Ten more lucky Player Club members will win $20 worth of free play in a random draw. Winners are announced Saturdays at 11 AM.
BetAmerica Bonus and Promotions
BetAmerica isn't exclusive to Pennsylvania or Presque Isle Downs and Casino. It is also available in New Jersey and Indiana. It should soon appear in more states as legalized sports betting gains traction. For those unfamiliar with BetAmerica, the site is far more than just a sportsbook. BetAmerica's online casino features an abundance of slots, table games, and specialty games. Open a new BetAmerica Casino account using the BetAmerica bonus code to claim up to $500 in bonus cash.
Alternatively, Pennsylvania sports betting and casino fanatics who join and make their first deposit at the BetAmerica can take advantage of BetAmerica's welcome bonus offer. Aside from a seemingly endless number of sports betting and casino opportunities, BetAmerica covers over 5,000 races from around the world every week.
How to Join the Player Club and Use the Player Club Card
Signing up for Presque Isle's Players Club isn't only quick and convenient; it's rewarding too. Simply visit one of the Guest Services kiosks and show them a valid piece of government-issued photo ID. After you receive your new card, you can immediately start earning points by inserting it into your favorite slot game, or by showing it to the table host when you play table games. You can even earn points by showing it to the dealer in the poker room.
The rewards points can add up fast. But what do you do with your player points? Well, you can redeem them food and drinks at any of Presque Isle's restaurants and food outlets. You can exchange your player points for merchandise at Churchill's Bourbon and Brew. Or, you might just want to use your points for free slot play? The choice is yours. Don't forget to claim your Free Play or Match Play bonus when you get your Players Club Card.
Players Club Tiers and Perks
The Presque Isle Casino Players Club is similar to other VIP programs in that you rise through the VIP levels to unlock more benefits and perks. Those who have earned up to 9,999 points are Tier 1 members. As such, they can redeem 500 player points for $1 in free play, food, beverages, or merchandise. Tier 1 players can claim up to $50 on their birthday and wedding anniversary. Tier 2 members get everything that Tier 1 players get along with bonus entries into exclusive draws, a complimentary drink each day, free valet parking, and a free racing program.
In addition to the Tier 2 perks, Tier 3 members get 2 free drinks per day and their very own casino host. Tier 4 membership is the top of the pyramid and offers everything that Tier 3 membership receives. But there's more. Tier 4 members get three free drinks each day, priority parking, and a quarterly comp worth up to $100. They don't have to wait in line at Guest Services or at the Backstretch Buffet either.
FAQ
When is Presque Isle Downs and Casino open for business?
You can take in the excitement Presque Isle Casino any time of day or night. The gaming floor, several dining establishments, and the sportsbook are open 24/7/365. The poker room never stops dealing out the action as long as it has players.
Where can I get food and beverages at Presque Isle?
Presque Isle currently has four restaurants. The INCafé is perfect for those who are looking for a quick snack. Try the Backstretch Buffet, Churchill's Bourbon and Brew, or LBV Steakhouse if you want to enjoy a delectable dine-in experience. There are also a few bars located throughout the property.
Can I place sports bets using the BetAmerica app if I am outside of Pennsylvania?
No. Pennsylvania gambling laws prohibit Pennsylvania online betting sites from offering their services to people outside of the state. BetAmerica uses geolocation software to detect where you are. If you are outside of the state's border when you try to place a bet, the software will automatically block it.
How old do you have to be to enter Presque Isle?
Only those who are 21 or older may enter Presque Isle Downs and Casino.
Best Online Casinos in PA
New Jersey

Pennsylvania

Michigan

West Virginia