Lady Luck Casino Nemacolin is located in Farmington, Pennsylvania which is situated in the Laurel Highlands of the scenic Allegheny Mountains. This is about 70 miles southeast of Pittsburgh. The casino has become a must-see attraction for those who visit or simply pass through this beautiful section of southwestern Pennsylvania.
The facility features an array of dining options, plenty of entertainment, and all the casino gambling action you can handle. There are loads of local attractions as well as lodging. Lady Luck Casino Nemacolin is owned and operated by Churchill Downs Incorporated which owns other properties including the famous Churchill Downs Racetrack, Presque Isle Downs, and Calder Casino.
Lady Luck Casino Nemacolin: A Brief History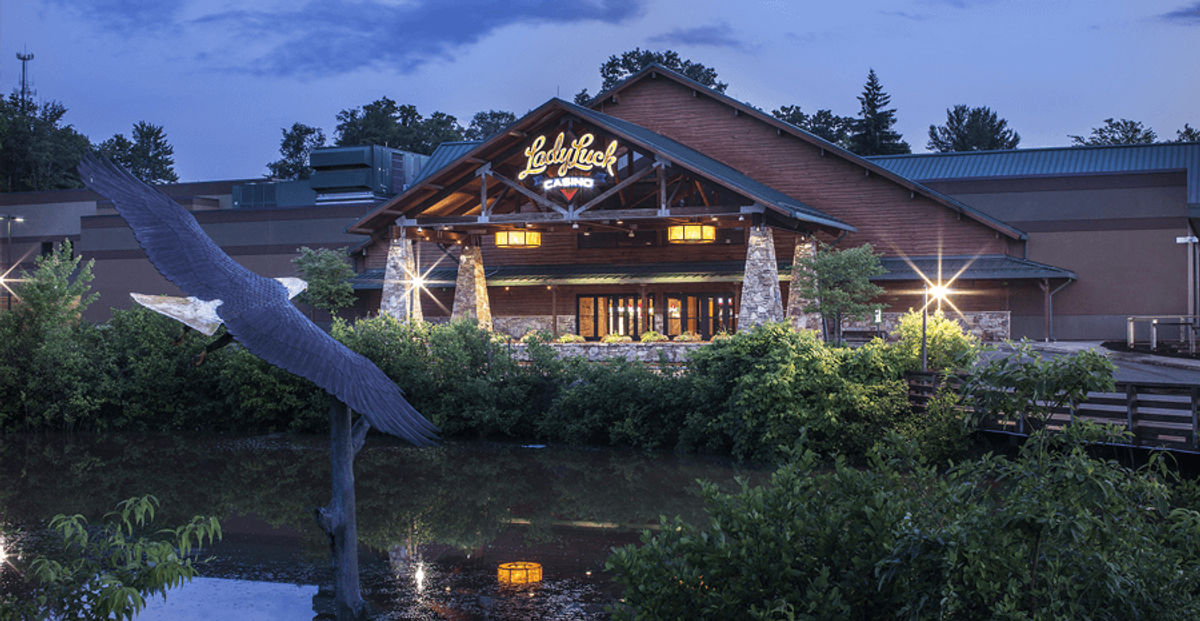 Lady Luck Casino Nemacolin
The property, which was named after Delaware Indian Chief Nemacolin, was first developed in the 1960s by Pittsburgh industrialist Willard Rockwell. He established a game reserve, hunting lodge, golf course, and an airstrip. A hotel was added and opened in 1970. By 1987, the 400-acre Nemacolin property was bankrupt. It was purchased by entrepreneur Joseph Hardy III and reopened as an upscale resort and hotel. More development ensued over the following 20 years including the largest wine cellar in Pennsylvania.
The property had almost everything but a casino. That changed in 2013 when Isle of Capri Casinos signed a lease agreement and opened Lady Luck Casino Nemacolin. At first, the casino operated under a Class 3 license which meant that access to the casino was only granted to paying guests and members. Churchill Downs Incorporated acquired the casino in 2019. The company paid a $1 million fee to the Pennsylvania Gaming Control Board which enabled Lady Luck Casino Nemacolin to allow the public to use the casino's services for free. Today, Lady Luck Casino Nemacolin offers formal dining, casual dining, golf, and a great selection of local attractions such as:
Wildlife Academy
Adventure Center
Golf
Nemacolin Field Club
And yes, Lady Luck Casino Nemacolin also features an elegant casino with an assortment of gambling options.
Gambling at Lady Luck Casino PA
Admittedly, Lady Luck Casino Nemacolin is much smaller and more intimate than other Pennsylvania casinos. Because of its location in the beautiful Laurel Highlands, many visitors come to the resort to relax and explore the many nearby attractions. Still, Lady Luck Casino Nemacolin is a beehive of activity with guests buzzing around the gaming floor playing a variety of casino games.
Slots and Video Poker 🎰
Lady Luck Casino PA has 600 slot machines. This pales in comparison to the bigger casino resorts in Pennsylvania, but you'll never have trouble finding your favorite machines. Despite the upscale nature of the place, Lady Luck Casino Nemacolin has slots to suit almost any gaming budget. There's a good selection of penny and nickel slots or you can wager more per spin if you feel like it. The casino features several classic three-reel slots as well as modern video slots that have multiple reels and a plethora of paylines.
One of the great things about modern video slots is that they offer a lot more than just spinning reels. Players can immerse themselves in the captivating storylines and narratives. These games change things up mid-game by featuring mini-games and an abundance of bonuses. Some feature awesome high definition animations as well as soundtracks that are a departure from the old fashioned and monotonous sound effects.
The range of slot themes at Lady Luck Casino Nemacolin is staggering. Sports, music, the Wild West, and television show themes are just the beginning. Asian themes are quite popular with titles like Spring Festival, Tiger Reign, Prosperity Pig, and Dragon's Luck. The Ancient Egypt theme is also popular. Dreams of Egypt, Cleopatra, and Zeus Unleashed are wildly entertaining. Then there are the many slot games that are based on movie characters such as Rocky, Wonder Woman, and The Amazing Spiderman. James Bond fans will be both shaken and stirred when they play Thunderball and Casino Royale. Do you want to see if you have the luck of the Irish? Try Wild Lepre'coins, Leprechaun's Gold, or Lucky O'Leary Jackpots.
Slot aficionados who dream of hitting a massive jackpot tend to frequent the progressive slots. These games can have monster jackpots ranging from hundreds of thousands of dollars to millions of dollars. When you play linked progressive slots, every bet you make has a portion of it diverted into an ever-increasing jackpot. In some cases, thousands of machines are linked making the jackpots unbelievable huge. Just be aware that some progressive jackpot games require players to place maximum bets in order to win the progressive pot. If you aren't sure about the rules of any slot game, the instructions will either be posted on the machine or available through an interactive menu on the screen. It should go without saying that the friendly slot hosts will happily explain the ins and outs of any slot game.
There are countless video poker fans out there and Lady Luck Casino Nemacolin hasn't forgotten about them. You'll find all of your favorite video poker titles and then some at Lady Luck Casino PA. Aces & Faces, Tens or Better, Jacks or Better, Bonus Poker, and Joker Poker are just a few games in Lady Luck's inventory. You'll also find progressive video poker games that work under the same principle as progressive slots do.
Table Games 🃏
Lady Luck Casino Nemacolin has 27 hot gaming tables that feature a wide variety of casino table games. If you want to play Blackjack, be prepared to choose from a few different variations of the game. While classic Blackjack is popular, so is Spanish 21, Pontoon, War, and a few other versions. Blazing 7s Blackjack cranks up the wow factor by paying a hefty chunk of bonus cash when you make 21 using three sevens. While there are subtle differences in the rules, the object of these games is pretty much the same. Beat the dealer by getting 21 or as close to it as you can without going over and you win. There are also a number of Baccarat variants at your disposal. Midi-Baccarat, Mini-Baccarat, and Baccarat Banque are among the trendiest.
Roulette has been around for hundreds of years and it remains a staple at casinos all over the planet. It is a particularly exciting game because there are so many bets you can make and the odds vary depending on which ones you make. Do you want to take a 50-50 shot or go for a 36-1 payout? Then there's Craps which is extremely popular in the United States and is full of unique vernacular. You'll be speaking a whole new language after spending a few rounds at the Craps table.
Poker fans will be delighted with the variety of casino poker games offered at Lady Luck Casino Nemacolin. These games are all based on traditional poker. The biggest difference is that you are playing against a dealer instead of other players. Winnings are usually distributed according to a predetermined pay scale. Some of the busiest casino poker tables are serving up hands of:
Criss Cross Poker: Played with a standard 52-card deck, a round starts with the player making to equal wagers: An ante across bet, and an ante down bet. The dealer then deals five cards face-down in the shape of a cross. Players are then dealt two facedown cards each. The community cards are then turned over between bets and the object is to make the best hand out of your two cards plus the three horizontal community cards plus your two cards and the vertical community cards. A royal Flush nets you a 500-1 payout.
Mississippi Stud: Place your ante bet and then the optional side bet if you wish. You then get two cards and the dealer places three community cards face down. The object is to make the best five-card poker hand out of your cards and the community cards. A pair of fives or lower is a loss while a pair of sixes up to a pair of tens is a push. A pair of jacks or better pays even money and two pairs pays two to one. The payout ratio increases according to the strength of your hand. A Royal Flush pays 500-1.
Three Card Poker: Three Card Poker is a fun stud-style poker game in which you can bet against the dealer, bet on the strength of your own three card hand, or both. The players and dealer start with three cards each. The player then looks at the hand and decides whether to bet or fold. Basic strategy dictates that you should play any hand greater than a Queen, Six, and Four. If you make the bet, the cards are flipped over to determine if your hand beats the dealers. If the dealer's hand is a Jack high or lower, antes are paid back at a ratio of one to one. If the dealer has at least a Queen high and you beat him, the ante and wager are both paid back at a ratio of one to one.
If you find that the limits at the tables are too low for your liking, Lady Luck Casino Nemacolin has a High Limit Room where you can bet between $50 and $2,500 per hand. The High Limit Room also has eight slot games with limits ranging between $5 and $25 per bet.
Lady Luck Casino Nemacolin is located in one of the most beautiful areas in the state if not the entire country. The casino might not be as massive as other casinos, but it offers a very good selection of slots and casino table games. You can book a room in one of the luxurious suites, enjoy an array of delicious foods at any of the on-site dining establishments, and take in the beauty of the Laurel Highlands. You can also join the Players Club to earn valuable rewards as you play your favorite casino games.
FAQ
Does Lady Luck Casino Nemacolin run any promotions?
Yes. Lady Luck Casino Nemacolin runs a variety of monthly promotions including Rewards Multipliers, Birthday Bonuses, and a Piggy Bank Bonus. Check out the Lady Luck Casino Nemacolin website to find out what promotions you can take advantage of this month.
How old do you have to be to enter Lady Luck Casino Nemacolin?
While minors can access most of the resort, you must be at least 21 to enter the casino. You can prove your age by showing a valid piece of government-issued photo ID.
Is there a cover charge to enter the casino?
There is no longer a fee to enter the casino. It's free to get in.
Is smoking allowed in the casino?
Yes. There are designated smoking areas and non-smoking areas in the casino.
Best Online Casinos in PA
New Jersey

Pennsylvania

Michigan

West Virginia