Atlantic City has long been the East Coast's gambling capital and Harrah's is one of the city's main attractions. One of three casino hotels in the marina district, Harrah's is a massive complex that features retail outlets, casual and formal dining options, lots of entertainment, and other amenities including a swimming pool that is situated under a glass dome. Harrah's 1,200-seat Concert Venue has hosted some of the biggest names in entertainment while the casino has been the setting for several high-profile boxing matches. Of course, the facility's biggest draw is the casino which has 177,000 square feet of gaming space. Harrah's Atlantic City is one of the most popular casinos in New Jersey.
Harrah's Atlantic City: A Brief History
Harrah's Atlantic City
Harrah's AC was originally called Harrah's Marina Resort when it first opened in 1980. It was the first casino in Atlantic City to not be located on the famous boardwalk. At the time, it featured a 506-room hotel and quickly became the highest-grossing casino in the city. In 2006, the hotel was renovated to match the style of Harrah's in Las Vegas. More renovations and construction projects have since been completed resulting in Harrah's being one of the East Coast's largest and most modern casino resorts. Harrah's AC is owned by Vici Properties and it's operated by Caesars Entertainment.
Gambling at Harrah's Atlantic City
There's a lot to do at Harrah's AC. Visitors can book a room at the massive and luxurious 2,587-room hotel and then enjoy a relaxing spa treatment, a mouthwatering meal, and shopping at the retail outlets. They can then enjoy the pool and indulge in some of the best nightlife around. Of course, most people visit Harrah's AC for the non-stop casino action. The mammoth 177,000 square-foot casino floor offers a full spectrum of gambling activities 24 hours a day, seven days a week.
Harrah's AC Online Casino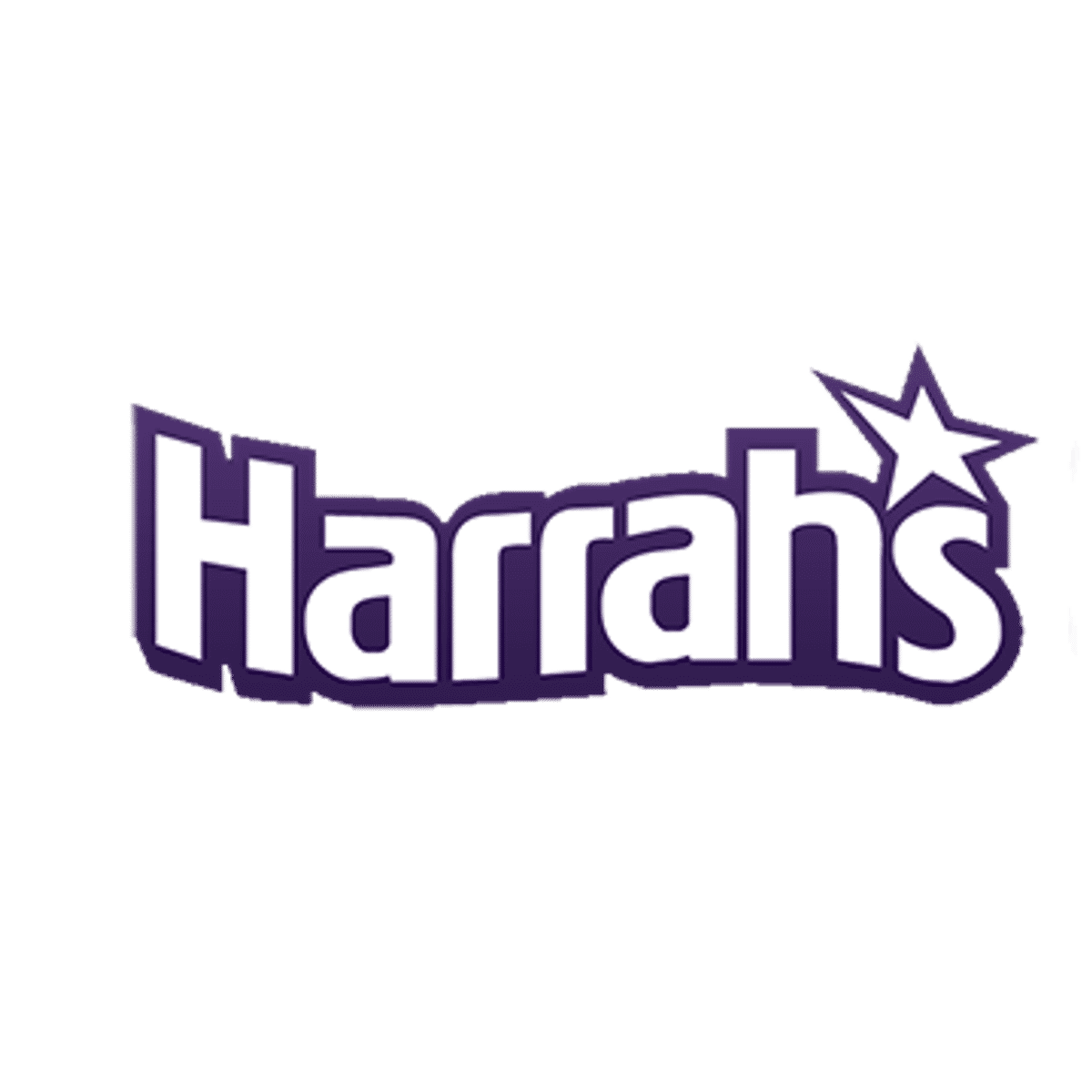 If you are not able to visit the Harrah's AC Casino you may always immerse yourself in the Harrah's Online Casino from anywhere in New Jersey using the Harrahs AC app. Harah's Online Casino is one of the market leading New Jersey online casinos, it offers a wide range of video poker games, Roulette, Blackjack, and the most popular slots including online versions of the most beloved ones from the physical casino.
Slots 🎰
Harrah's AC invites you to come to the casino and immerse yourself in the casino's 2,172 slot games. Whether you like playing those old school three-reelers or the modern multi-reel slot games, Harrah's AC has a game for you. These slot machines feature a huge variety of themes and features. 88 Fortunes, Prosperity Pig, Dragon's Luck, and Dancing Foo are among the many popular Asian-themed slots. Fans of the James Bond movie franchise will love Thunderball and Casino Royale while television buffs are partial to The Bachelor and AMC Walking Dead video slots. Wonder Woman, The Amazing Spiderman, and The Dark Knight are a few superhero-themed games. You can even take a virtual trip around the globe playing Monte Carlo Multi Spin, Dreams of Egypt, and Gold of Tenochtitlan.
Other popular slot games include:
Fortune Coin
Spring Festival
Super Jackpot Seven Seas
Wild Chuco
Great Guardians
Rakin' Bacon
Wild Blue
Harrah's Casino Atlantic City has slot games to suit most budgets. You can stretch your gambling dollar at the penny slots or wager up to $100 per spin. There are also high limit slot areas for those who live by the "go big or go home" credo.
Slot games at Harrah's AC offer loads of impressive payouts, but none of them compare to the massive payouts that lucky winners have received from the progressive jackpot slot games. Unlike typical stand alone slots, progressive slots are linked and they build huge jackpots by diverting a portion of every bet into one juicy jackpot. They are often worth hundreds of thousands or even millions of dollars. Aside from billionaires, who doesn't dream of being a millionaire?
In addition to the slot games, Harrah's has plenty of video poker titles. Jacks or Better, Aces & Eights, Double Down Stud Poker, and Joker Poker are among the most popular video poker titles. The casino even has some progressive video poker games that generate very impressive jackpots.
Table Games 🃏
Harrah's has an excellent selection of casino table games. With nearly 150 tables, you'll never have trouble finding your favorite game. You have several Blackjack variants to choose from including classic Blackjack and Spanish 21. Nailing a 21 with three sevens will net you a sweet progressive jackpot at the Blazing 7s Progressive Blackjack table. If Baccarat is more to your liking, Harrah's has several versions of that game too including Midi-Baccarat and Mini Baccarat. The Craps and Roulette games are always brimming with excitement.
There is also a good variety of casino poker games at Harrah's AC. Traditional poker pits players against each other. With casino poker games, you play against the house and your winnings are based on a set payout scale. Popular casino poker games include:
Flop Poker: It's a five-card poker game with a twist. You get to use a sixth card.
Three Card Poker: Win a million dollars if you get a Diamond Super Royal Flush.
Four Card Poker: Beat the dealer's four-card hand with your four-card hand.
Let It Ride: A popular spin-off of Five-Card Stud Poker
High Card Flush: You win when your flush beats the dealer's flush.
Criss Cross Poker: Make the best hand using your two cards and three community cards.
Caribbean Stud Poker: Similar to Five-Card Stud.
Pai Gow Poker: Make one five-card hand and one two-card with your seven cards.
Ultimate Texas Hold 'Em: An exciting twist on Texas Hold 'Em.
If you want to play any of these games but you are unfamiliar with the rules, don't hesitate to ask one of the table hosts to show you how to play. You can also visit the Harrah's AC website for quick tutorials and basic strategies.
Poker
Table hosts are shuffling up and dealing around the clock in Harrah's AC poker room. You'll find the most popular poker variants such as Texas Hold 'Em, Omaha, Omaha Hi-Lo, Seven Card Stud, and Seven Card Split. The poker room at Harrah's AC features 40 tables with comfortable padded chairs. No-limit games start as low as $1/$2 while limit games begin at $2/$4. The room is surrounded by flat-screen TVs and you can order a range of menu items and beverages straight to your table.
On top of the non-stop cash games, the poker room at Harrah's AC hosts daily tournaments including a $2,500 Guaranteed tournament that commences at 8:15 PM every Sunday and Wednesday. The poker room is the home of WSOP Circuit Events that are held annually in Atlantic City.
Keno
Lots of people love to play Keno because it doesn't require any skill and they can win some impressive cash prizes. Harrah's Keno Parlor is open every day between 10 AM and 2 AM. Sit back and relax in a lounge chair while your numbers appear on the screen. New games get underway every five minutes. Don't worry if you want to play Keno after hours. Harrah's AC has several Keno machines on the casino floor.
Caesars Rewards lets you earn points every time you place a bet at Harrah's AC. Points can be redeemed at over 55 destinations throughout the United States. As Caesars Rewards members earn more points, they climb through the tiers which gives them access to more generous benefits. The perks start adding up as soon as you sign up for your free membership. You'll immediately be eligible to receive special offers, discounts on hotel rates, dining, and retail shopping. You can also earn a free one-night stay in Las Vegas or Atlantic City for every 5,000 points you earn. Check out Harrah's AC website for full details.
Amenities at Harrah's Atlantic City
As you would expect from any great casino resort, Harrah's Atlantic City offers a lot more than casino gaming. The swimming pool, which is enclosed in a glass dome and surrounded by palm trees, is open year round. The pool turns into "The Pool After Dark" on Wednesday, Friday, and Saturday night. You can get an invigorating workout at the fitness center or take in a relaxing spa treatment. Did you bring the kids with you? Take them to the Family Fun Center and Pool where they can swim and play arcade games such as Skee-Ball, Air Hockey, and video games. There are also some wonderful restaurants for formal and casual dining.
Harrah's Atlantic City offers a superb casino resort experience. The number of gaming options offered on the humungous casino floor is staggering. Add in a poker room and a sportsbook and you have a well-rounded gambling adventure. Don't forget to join the Caesars Rewards program to earn benefits as you play. You can book a room, do some shopping, make use of the amenities, and witness some of the best entertainment Atlantic City has to offer. There's even something for the kids.
Does Harrah's Casino Atlantic City offer credit to guests?
You can apply for a line of credit in person at Harrah's AC or by going to Harrah's AC website. If approved, you won't have to worry about carrying around wads of cash or finding an ATM.
How old do I have to be to enter the casino?
You must be at least 21 to enter the casino, poker room, and sportsbook. Kids are allowed in the Family Fun Center and Pool but they must be accompanied by an adult.
Do I have to pay for my drinks when I am playing in the casino?
No. The wait staff at Harrah's AC gives you free alcoholic and non-alcoholic drinks if you are actively playing in the casino.
Does Harrah's Casino Atlantic City offer high-stakes Baccarat?
Yes. Harrah's Casino AC has a high-limit room with all of your favorite table games including Blackjack, Baccarat, Roulette, and casino poker games.
Does Harrah's AC run any casino promotions?
You betcha they do. Rewards multipliers, slot tournaments, and draws are just some of the promotions that Harrah's Casino Atlantic City offers.