The Hard Rock Atlantic City is one of the most popular casinos in New Jersey's gambling Mecca. The complex lies on a 17-acre plot on the famed Atlantic City Boardwalk close to the Steel Pier. Hard Rock Hotel and Casino Atlantic City are mostly known for their many gambling options, which populate a massive 167,000 square foot casino floor. However, there are many other world-class features, including 1,971 hotel rooms, multiple entertainment venues, and various fine and casual dining establishments.
The new Hard Rock Meadowlands is another casino resort under the Hard Rock brand, which will be one of the largest casinos in New Jersey.
Hard Rock Hotel and Casino Atlantic City: A Brief History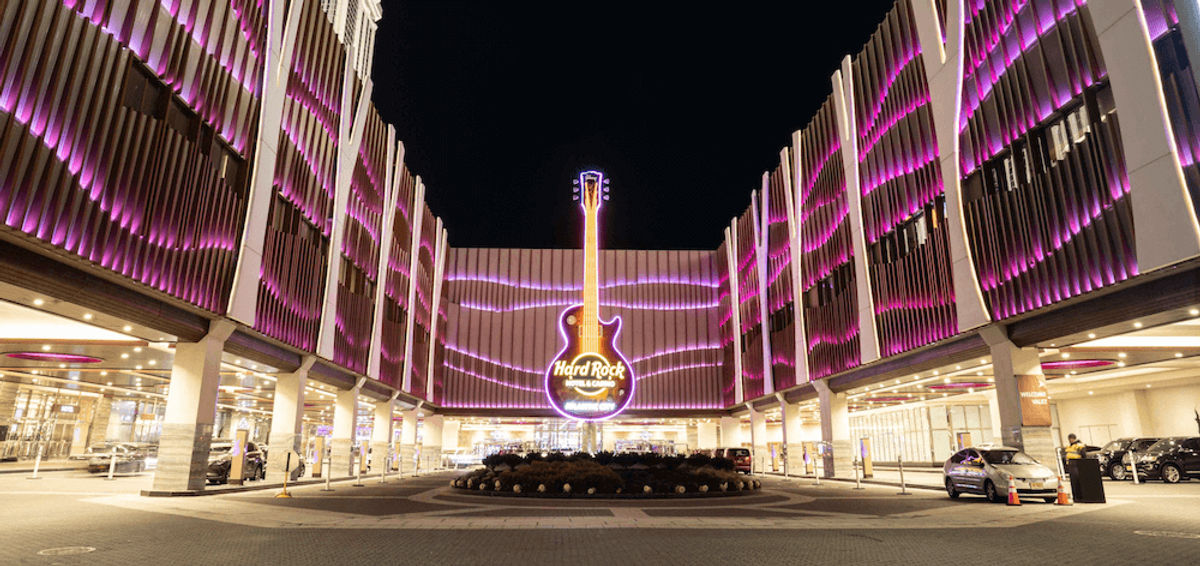 Hard Rock Atlantic City
The Hard Rock Hotel and Casino Atlantic City was initially the Trump Taj Mahal when it was built for an estimated $1 billion in 1990. The Hard Rock Café was a popular feature of the original Trump Taj Mahal. Trump Taj Mahal encountered financial and legal problems almost closing in 2014. However, a new ownership group stepped in a purchased the property. Still, new ownership could not save the day as the Taj Mahal closed its doors on October 10, 2016.
A new era commenced for the embattled facility in March 2017 when Florida's Seminole Tribe bought it and renamed it under their Hard Rock International brand. The Hard Rock Hotel and Casino Atlantic City officially opened its doors to the public on June 27, 2018. The casino was granted a sports betting license a few months later. Hard Rock Hotel and Casino Atlantic City now operate an onsite sportsbook and the Hard Rock online casino and sportsbook.
Gambling at Hard Rock Atlantic City
The Hard Rock Atlantic City offers loads of awesome things to do. You could go swimming, take in a spa treatment, go for a casual meal or upscale dining experience, and enjoy some of the best live entertainment in the world. But all of those things merely compliment the real reason why so many people visit Hard Rock Atlantic City: The casino gambling. With over 2,000 slots, over 100 gaming tables, and a state-of-the-art sportsbook, Hard Rock AC serves up many gambling possibilities.
Unibet Online Casino at Hard Rock Atlantic City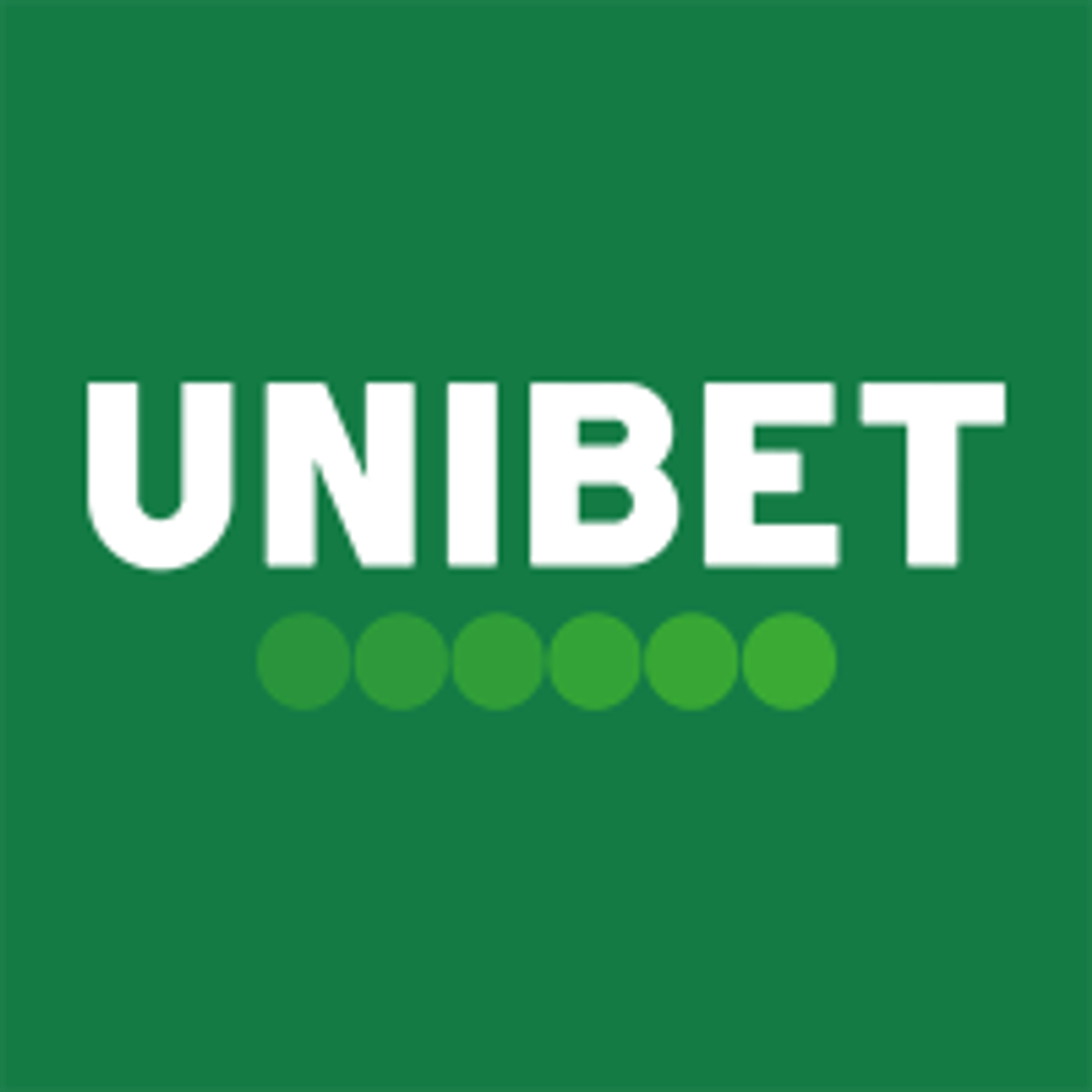 Unibet is the most popular online casino operating under the Hard Rock AC brick-and-mortar casino license. Unibet online casino offers a complete casino experience with a full range of slots, table games, live casinos with live dealers. This makes it one of the best online casinos in NJ. The Unibet online sportsbook will also be available through your Unibet casino account.
Slots 🎰
It should be no surprise that Hard Rock AC's slot machines attract plenty of players. Guests have over 2,000 slots, video poker, and electronic gaming options available on the sprawling casino floor. Slot enthusiasts have a variety of themes and stakes to choose from. While some prefer the simplicity of traditional three-reel slot games, others prefer modern video slots with multiple reels and many ways to win.
These modern slot games go beyond basic themes like Ancient Egypt, the Wild West, and Music and Entertainment. Many of these newer video slots enable players to immerse themselves in intriguing storylines and narratives. In addition, they have attention-grabbing high, definition graphics, and stellar sounds. Many of the new generations of slot games also have a range of features, including autoplay, Wilds, Scatters, Bonus Rounds, and mini-games.
In addition to Hard rock Atlantic City's impressive collection of stand-alone slots, they also have an abundance of progressive jackpot slots. These advanced machines are favorites of players who want to win a life-altering chunk of change. These jackpots can reach as high as six and seven figures. How does that happen?
Well, progressive slots are linked. They may be related to a few other slot games in that casino or linked to thousands of machines throughout the United States or even the world. So every time to place a bet at a progressive slot, a portion of the wager amount goes into one ever-growing jackpot. When you consider how thousands of players can be playing on a vast area of slots, it's easy to see how quickly these jackpots can grow and how huge they can get.
Video poker fans will be treated to an excellent selection of video poker games. Deuces Wild, Joker Poker, Tens or Better, and Bonus Poker remain among the favorites of video poker fans everywhere. You'll even find progressive video poker games at Hard Rock Atlantic City. There are also several electronic gaming machines on which you can play your favorite live dealer table games like Blackjack, Roulette, and casino poker using a touchscreen.
Table Games 🃏
Hard Rock Hotel and Casino Atlantic City offer a full arsenal of table games. However, it's not as simple as saying you want to play Blackjack, Baccarat, or a casino poker game. You see, there are several variants of those games. For instance, while you can play Classic Blackjack, you could also play:
Spanish 21: This game is played with six or eight decks with the Tens, Jacks, Queens, and Kings removed. This increases the house edge, but insurance, late surrender, and surrendering after doubling down even out the odds.
Pontoon: Like Spanish 21, Pontoon is played with multiple decks without the Tens, Jacks, Queens, or Kings. You have lingoes such as Pontoon, Twist instead of traditional terms like Hit, Stand, and Blackjack.
Super Fun: This version of the game abides by traditional blackjack rules, except for a couple of exciting twists. The main twist is that the player's natural Blackjack beats the dealer's natural Blackjack. The payout structure is also a little different.
Blackjack offers players several betting options such as Insurance, Splitting, and Doubling Down. There are optional wagers too. For example, bet on Lucky Ladies and win if your first two cards add up to 20. With a Blazing 7s Progressive wager, you can win big if you nail a 21 with three suited sevens. You can also place a 21 + 3 or a Match the optional Dealer wager.
Baccarat is a traditional favorite at casinos all over the world, and Hard Rock Atlantic City has a few exciting variants of it, including:
Super Pan 9: This version of Baccarat is played with all of the sevens, eights, nines, and tens removed. The player and the banker both get three cards with the option to draw a fourth.
Three Card Baccarat: This version of the game is popular in Asia. It uses a single deck with the dealer and player getting three cards each. But there's a twist. A hand consisting of three face cards is the highest hand. Traditional hand rankings follow this.
Casino poker games are wildly popular. Unlike traditional poker, where you play against other players for a standard pot, most casino poker games put you up against a dealer, and a pay scale determines the payout. The object of games like Mississippi Stud, High Card Flush, Let It Ride, Heads Up Hold 'Em, and Ultimate Texas Hold 'Em is to make the best five-card poker hand. Other casino poker games like Three Card Poker have you make the best three-card poker hand. Because you only use three cards, the hand strengths are different from traditional hand strength rankings.
The Craps and Roulette pits at Hard Rock Hotel and Casino Atlantic City are always rocking and rolling. Give the Big six Wheel a shot if you're looking for a straightforward game that requires no skill. Are you new to casino gambling or just looking to learn another game? If so, Hard Rock Hotel and Casino Atlantic City offer free gaming classes so you can learn how to play and hit the tables with confidence. You can also ask one of the friendly table hosts how to play. They will be happy to teach you the rules and some basic strategies.
One of the more recent additions to the Hard Rock Casino AC is the Asian Gaming Room. You'll find Pai Gow, more Baccarat, Asian Poker, and many Chinese casino games. Other games include:
EZ Baccarat
Mini-Baccarat
Pai Gow Tiles
Pai Gow Poker
2 Private Mini-Baccarat Rooms
Other Gambling at Hard Rock Casino AC
While the Hard Rock Hotel and Casino Atlantic City does not have a poker room, one of New Jersey's best sportsbooks is located at the north end of the casino floor. Hard Rock Hotel and Casino Atlantic City Sportsbook feature over 40 big-screen TVs, six betting stations, and plenty of comfortable lounge seating.
Wild Card Rewards 🎁
The Wild Card Rewards program lets members earn points that they can use to exchange for various items and perks. The more you play slots and table games, the more Wild Card points you earn. It's free to join, and you start reaping the benefits immediately. Those on the bottom tier can take advantage of exclusive multiplier offers, free play, complimentary gifts, and discounts at hotels, restaurants, and retail outlets. The rewards get better and better as you ascend through the tiers.
Hard Rock Hotel and Casino Atlantic City are one of New Jersey's most popular destinations for a reason. This facility has everything you'd ever want in a modern casino resort. Dining, shopping, luxury amenities, world-class entertainment, and booming nightlife will make your visit memorable. But, of course, the enormous casino floor with its vast array of gambling options is Hard Rock AC's crown jewel. So make sure you drop by if you're planning to visit Atlantic City.
FAQ
Does Hard Rock Hotel and Casino Atlantic City have any special offers for veterans?
Hard Rock Hotel and Casino Atlantic City's Wild Card Veteran's Program is open to all: - Active Duty Military
- Veterans - Army and Air National Guard - Army Reserve - Marine Corps Reserve - Air Force Reserve - Coast Guard Reserve - Active Military and Veteran Spouses. This program offers several perks and benefits including: - Upgrade to Elite Status - Free Self-Parking - Buy One Get One Free Buffet Monday Through Thursday - Discounts at Hard Rock Café, Rock Spa, and - Hotel - Free slot Play - Much More
How old do you have to be to enter the casino?
You must be at least 21 years old to enter any of the gambling areas.
Does Hard rock Casino AC serve free drinks?
Yes. Floor staff will provide you with free alcoholic and non-alcoholic beverages as long as you are actively gambling.
Can I smoke at Hard Rock Hotel and Casino Atlantic City?
There are several designated smoking areas throughout the resort.